U-M health system doubling its bed capacity at Chelsea Community Hospital
Posted on Fri, Mar 1, 2013 : 5:58 a.m.
The University of Michigan Health System is continuing its efforts to localize health care with an expansion of bed capacity for its patients that choose Chelsea Community Hospital, officials announced this week.
It's made possible through a master affiliation agreement signed in 2012 between UMHS and Trinity Health-Michigan, the parent organization of Chelsea Hospital since 2009.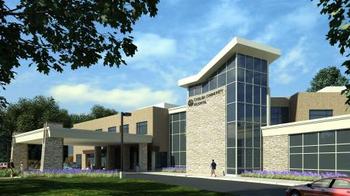 Courtesy of Chelsea Community Hospital
More UMHS patients will be able to receive treatment at the Chelsea Hospital for basic medical conditions that would require an overnight stay at a hospital, officials said. It's an alternative for patients on the western side of Washtenaw County instead of traveling to the congested main medical campus in Ann Arbor.
The University of Michigan's Chelsea Family Medicine practice typically utilizes five to eight patient beds each day at the Chelsea Hospital, and treats more than 600 patients each year, said Robin Damschroder, associate hospital director of operations and clinical services.
The intent is to double UMHS' presence to 10 to 16 patients daily, Damschroder said.
"We have enjoyed a long-standing relationship with U-M Health System, and are pleased to take it to this next level," said Nancy Graebner, president and CEO of Chelsea Community Hospital, in a statement. "It's a natural fit for us to collaborate with our U-M partners to ensure patients receive the most convenient, accessible care close to home."
The shift to localizing patient care to reduce congestion on UMHS' main medical campus also is a motivating factor for UMHS' construction of a new 100,000-square-foot facility in Northville. Administrators anticipate 715 visits per day at the new building, which will be staffed by about 60 doctors.
In August, UMHS announced it was seeking an affiliation with the Midland-based MidMichigan Health to extend higher levels of UMHS treatment options to health care providers in outlying areas.
At Chelsea Hospital, UMHS has a team of eight family medicine doctors. More than 20 physicians at UMHS had patients that were admitted to Chelsea Hospital in 2012.
Chelsea Community Hospital recently completed a $40 million expansion that constructed a 130,000-square-foot building adjacent to its existing 127,000-square-foot facility.
However, the hospital had space for UMHS's practice to expand its bed capacity prior to the expansion, Damschroder said. The additional beds that can be used for UMHS patients at the Chelsea Hospital do not require any kind of financial compensation, as it's a part of a longstanding agreement between the two institutions, Damschroder said.
UMHS physicians have practiced in Chelsea Community Hospital since 1978. They see patients in a designated area of the hospital.
Upon arrival at Chelsea Community Hospital, UMHS patients should identify themselves as such to the staff to be directed to the UMHS Chelsea Family Medicine doctors.
Services offered for UMHS patients at Chelsea Hospital include emergency care and adult hospitalizations for medical conditions like chest pain, shortness of breath, pneumonia and other infections.
UMHS patients seeking obstetrician, gynecologic, advanced cardiac or intensive care unit services, as well as health care for children, will not be treated at the Chelsea Hospital.