With slideshow:

Youngsters choose lambs in first step on journey to Chelsea Community Fair competition

Posted on Tue, Apr 12, 2011 : 12:26 p.m.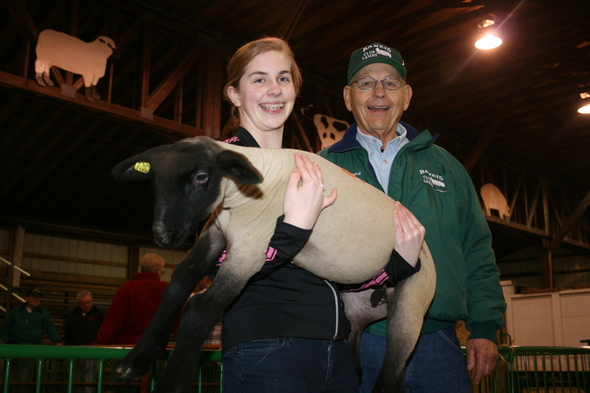 Lisa Allmendinger | Ann Arbor.com
This is the first of an occasional series leading up to the Chelsea Community Fair in August.
Samantha Bies, Emily Trinkle, Mckenna Fletcher and Kathryn Haroney were among the youth checking out the 70 lambs at last weekend's Chelsea Community Club Lamb Sale.
All of them plan to show their sheep at the 74th annual Chelsea Community Fair Aug. 23 through 27.
"I looked for nice lambs based on price. I want to make some money, but have fun doing it," said Haroney, 14, who has been showing lambs for about eight years.
The Chelsea High School freshman lives in Lima Township and said she was also scoping out a pair of lambs for her brother, Joe, who wasn't able to attend the annual sale.
"I like the little female sheep," she said. "For my brother, I looked for a decent pair that matched up."
The show-quality lambs at the annual auction at the Chelsea Fairgrounds were born after Jan. 1 and came from the flocks of three local farmers: Richard Bareis of Lima Township, Jim and Barb Schray of Munith and Earl Heller of Sylvan Township.
This year's starting price was $175; last year it was $135. The increase was due in part to the rising cost of food for the animals, the sellers said.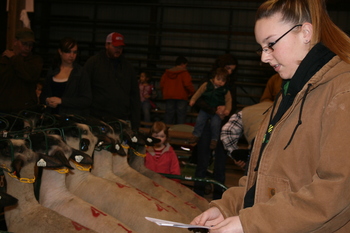 Lisa Allmendinger | AnnArbor.com
About 17 youths and somewhere between 30 and 35 lambs are expected to show at the fair this year. Some of the exhibitors will show two sheep, but it's not a requirement, said
Greg McKenzie
, one of the two sheep superintendents.
"I'm not looking for anything too big. I'm looking for pairs that are the same color and rectangular," Bies said.
She was looking for four lambs — two for the fair and two for the 4-H for the Youth show held in July. Bies is a member of Rogers Corners 4-H Club.
Trinkle, 6, a student at Cornerstone Elementary, said she was looking for a friendly lamb.
All the youths studied the lambs from the rear, explaining that the shape of the lamb's head, its color and its ear carriage weren't important to them.
"They are looking for 'bubble butts,' the amount of muscling. They want strong characteristics," said Heller, one of the sellers. "They aren't looking at heads, rather rears."
Fletcher, 7, of Chelsea, said she wanted a small lamb. Both she and her sister, Megan, 9, will show at the Chelsea Fair.
"She should have a small lamb," Bareis said. "It needs time to grow, just like a small child. It has to be a pet to start. For little kids, it's a lesson in learning about the animal and how to care for it. You need a little lamb for a little. For them, it's not all about winning."
Bareis said an older exhibitor can handle a larger lamb because they have more experience. To show a lamb at the fair, youths must live in either the Chelsea or Dexter school districts and be a member of the Chelsea-Dexter School District Lamb Club. Children as young as 6 are allowed to show for the first time and they can continue each year, through the year they graduate from high school.
Lambs at the Chelsea Community Fair date back to 1960 when Dean Schairer's champion lamb was sold at auction to Farmer's Supply for .36 cents per pound. Since then, the top price per pound was $20 and it was paid to Josh Hofing of Sylvan Township by Gina's Cafe in 1994, to Melissa Koch of Sylvan Township in 2001 by Polly's Market, and to her sister Amanda Koch in 2004 by Dr. Douglas Portz.
Next up for the youths' lambs: a May 7 mandatory weigh-in at the fairgrounds.
Lisa Allmendinger is a reporter with AnnArbor.com. She can be reached at lisaallmendinger@annarbor.com. For more Dexter stories, visit our Dexter page. For more Chelsea stories, visit our Chelsea page.