No tax increase for Chelsea residents with approval of budget, millage rates
Posted on Wed, May 23, 2012 : 1:43 p.m.
Chelsea residents will not see a millage increase this year, but they will find increases when they receive their next sewer and water bill.
Tuesday night, the City Council unanimously adopted a $3.9 million operating budget and set a millage rate of 13.1555 mills.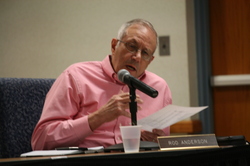 Lisa Allmendinger | AnnArbor.com
By a 5-1 vote, members also adopted utility rates that include a 3 percent increase in water rates and an 18 percent increase in sewer rates, while electric rates remained unchanged.
The proposed wastewater commodity rate is $6.64 per 1,000 gallons with a monthly service charge of $18.60 for a 1-inch meter. The water rates show a commodity rate of $6.31 per 1,000 gallons, while a 1-inch meter would have a $7.64 monthly service charge.
Residents can determine what their new water and sewer charges will be by taking the base monthly charge, based on a resident's meter size, plus the commodity rate times the number of gallons they use.
Council Member Rod Anderson was the lone no vote on the utility rates, explaining his dissent was "a technical statement," based on the city's rates when compared with other local municipalities in a study compiled by the Village of Clinton that ranked Chelsea as having some of the most expensive rates in the area.
He requested "a benchmarking study … that compared similar municipalities with "Chelsea's unique problems." He said he supported the rates in principal, but wanted a more complete look at the city's rates.
City Manager John Hanifan said that the city has a rate study conducted every five years and "we are due to have the rates looked at" again.
"I approve the budget and funding," Anderson said. "I think it's an excellent budget and I commend staff who put it together but there are elements that could use some improvement."
The millage rate break down is 11.2 mills for general fund operation, 1.22 mills for streets and 0.7355 mills for solid waste.
The City Council also approved a 1.6727 millage rate for properties in the city's Downtown Development Authority District by a 5-1 vote. Anderson, again, cast the lone no vote saying, "I'll reluctantly be voting no. I think the DDA is a real credit to this community, but my vote reflects my frustration with a lack of oversight for the budget."
He said he wanted more transparency in what the project plans are for the upcoming budget year.
The DDA millage rate has remained the same since 2007, said Clerk/Treasurer Terri Royal.
Council Member Frank Hammer was absent from the meeting.