Chelsea Standard:

Longworth Development Company withdraws proposal for Chelsea property

Posted on Fri, Jun 22, 2012 : 3:30 p.m.
The team selected last month by the Chelsea Downtown Development Authority to redevelop the historic Longworth property withdrew its proposal this week, according to a Chelsea Standard story.
The 110 Longworth Building Company cited a condition the DDA set that the group must provide a bank letter of credit of $1 million within a 90-day period in its letter Tuesday withdrawing its proposal, the Standard reported.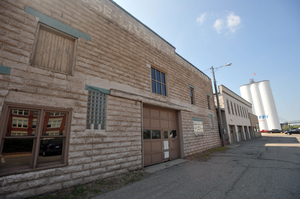 Lon Horwedel |AnnArbor.com
According to
previous AnnArbor.com reports
, the group sought a multi-million dollar redevelopment of the buildings into a mixed of retail, residential lofts, specialty food vendors, arts and crafts studios and a gallery.
The DDA put the property up for sale for $1, but required that the developer who buys it to invest at least $1 million and return the buildings back to the city's tax rolls.
Involved in the plan were Alexander Pollack in association with Kadushin Associates Architects Planners Inc., J. C. Beal Construction Inc., and members of the Chelsea Connection, a group of Chelsea residents who have been fighting to save the building.
"In particular, the letter of credit, the short due diligence period, and reverter are unrealistic and unreasonable and we will not undertake the business risks to proceed under these conditions," Pollock wrote in a letter withdrawing the proposal, according to the Standard report.
The DDA will meet July 19 to discuss the next step with the property.