Developers make case to buy downtown Chelsea's Longworth property
Posted on Sun, Jun 3, 2012 : 5:58 a.m.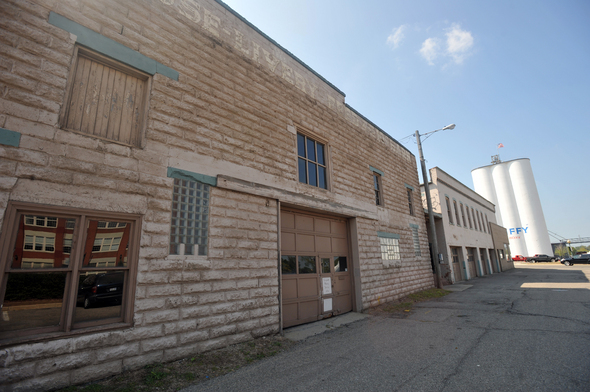 Lon Horwedel |AnnArbor.com

The Chelsea Downtown Development Authority moved closer to a decision on how to develop a historic downtown building last week, as they listened to an overview of two proposals planned for the Longworth property.

The Longworth property on Jackson Street on the north end of the downtown consists of the Mack and Chelsea House/Livery Buildings as well as a former car dealership.

"It's been our intent to put this property back on the tax rolls," said DDA Chairman Pete Flintoft.

The DDA purchased the property in 2008 for $400,000 and members would either like to see it redeveloped or demolished to make way for new development.

Either way, members said, the sooner the better.

Both financial proposals - one by a 110 Longworth Building Development Company and the other by Michael R. Prochaska and Ernest Zachard - include a financial model with state and historic tax incentives for redevelopment opportunities.

Abe Kadushin said members of the 110 Longworth had years of experience working with projects of this type and were looking forward "to putting a historical building back into use."

When asked about a timeline, he said the group needed six months to get started, and planned a late 2013 occupancy.

Roger Hewitt, a member of the 110 Longworth development team and Ann Arbor DDA member, was asked to address potential parking issues that might come into play with his portion of the project -- a new restaurant.

He said compared to what he's dealing with in Ann Arbor, Chelsea's situation was a "dream."

"It's free. It's all on the surface. This is a dream situation. I'm not concerned about parking," he said of potential customers for his proposed restaurant.

The Prochaska-Zachary proposal is very different project as Mike Prochaska acknowledged during his presentation.

It includes 20 loft-style apartments with geothermal heat and air conditioning, solar electric and solar thermal systems. The livery building and the Mack building will house 20 units with distinct layouts, while the Longworth Showroom portion will feature a small commercial component.

The project will "retain history and keep the façade," he said.

Prochaska said the interior of the building "is shot," and there is a considerable amount of environmental cleaning that needs to be assessed and dealt with before the apartments and commercial space can be constructed.

According to this group's financial plan, 42 percent of the financing is coming from tax credits, which raised some concerns. So did the proposed parking situation for tenants because the developer did not realize that the area he'd designated for parking was owned by Norfolk Southern Railroad and leased to the city.

In January, the DDA agreed to look at two parallel tracks, one for adaptive redevelopment and another that includes the demolition of some of the structures on the site with public walkways on the northern side of the parcel connecting the Main Street sidewalks to the Chelsea Depot property.

A discussion and final decision on the fate of the buildings is expected on June 7 at 7:30 a.m. during a special meeting at the Chelsea District Library.

Lisa Allmendinger is a regional reporter for AnnArbor.com. She can be reached at lisaallmendinger@annarbor.com. For more Chelsea stories, visit our Chelsea page.