Chelsea Standard:

Chelsea DDA member resigns after board awards Daniels Showroom demolition bid

Posted on Thu, Sep 20, 2012 : 5:32 p.m.
A member of the Chelsea Downtown Development Authority board resigned in protest today after the board accepted a bid to demolish the Daniels Showroom, the Chelsea Standard reported.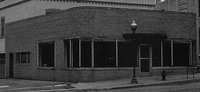 City of Chelsea photo
The city of Chelsea was
soliciting bids for the demolition
of the showroom, a former auto dealership near Main and Jackson streets, which is a part of the historic
Longworth Property
.
The DDA approved the $23,000 demolition bid of Smalley Construction, despite a letter from the State Historic Preservation Office urging the board to leave the showroom in tact, according to the Standard report.
In December 2008, the DDA bought the showroom, the adjacent Mack Building and a livery on the other side of the Mack Building for $400,000. In June 2009, it voted to demolish the showroom, which faces Main Street, and the livery building while leaving the Mack Building, which is between the two.
Board member Palmer Morrel-Samuels attempted to sway the board to vote no on the demolition and resigned after the bid was approved, the story said.