Ann Arbor area mammogram practices unlikely to change based on federal recommendations
Posted on Thu, Nov 19, 2009 : 8:45 a.m.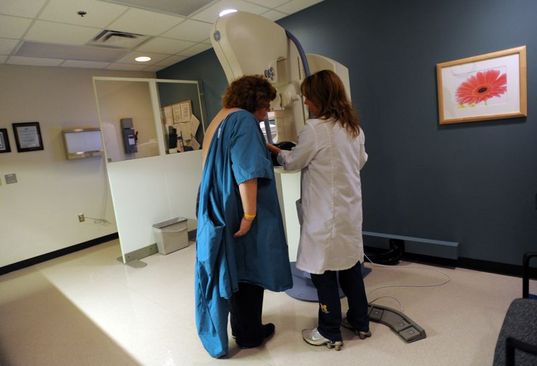 Melanie Maxwell | AnnArbor.com
On Alesia Hermosillo's 49th birthday earlier this year, she was diagnosed with an invasive form of stage 1 breast cancer.
The Belleville woman was outraged this week when she heard a government panel suggested women like her wait until they turn 50 to begin mammogram screenings for the cancer.
"If we hadn't caught it when we did, it would've advanced and gone into the lymph system," Hermosillo said, adding St. Joseph Mercy Health System doctors found the cancer after she underwent a routine mammogram.
She had a double mastectomy, but avoided chemotherapy and radiation, she said.
Hermosillo echoed the concerns expressed across the country this week by patients younger than 50 who say they've benefitted from screening and by the health professionals who for years have recommended the screenings.
---
Guest Column

Fighting breast cancer
is hard enough; don't keep women from exams that
will catch it early

I am a breast cancer survivor. Under the new proposed standards for mammograms, I would not have even been diagnosed yet.

I am only 49.

If it weren't for the digital mammogram I had, and have been receiving annually for the last 9 years, I wouldn't have known I had breast cancer. My family and I are thankful my physicians follow a standard of care that suggests annual mammograms.

Early detection saved my life.

It seems outrageous that a panel determines when a woman should have regular screening for breast cancer. Many women 50 and younger have been saved by early detection and early treatment. I know at least a dozen myself. I am curious if the panel is willing to write off so many women and families who have survived or who are currently in treatment. Don't we matter?

The potential of a false positive as a result of a mammogram should not stop the most basic test that is so very valuable to the lives of so many. A positive mammogram indicates a need for further testing. That further testing determines if treatment of any kind is required. I understand that there are false-positives, false negatives that is the case with any test. However, that is why we have tests, and to the majority of people who are properly diagnosed, it is a life saver. Self-exams should be taught - doing an exam correctly is important - we all know our own bodies best.

My fear is that the new standard will pave the way for insurance companies to refuse coverage of a mammogram prior to age 50. It is distressing enough that there are women today who don't take this test because they can't afford it. To see more people fall into that category is truly an awful day in our country.

To the panel - fighting cancer is hard enough - we shouldn't have to fight a deadly task force standard too.

Alesia Hermosillo is a Belleville resident and was diagnosed with breast cancer in March.



---
On Wednesday, local hospitals and U.S. Department of Health and Human Services Secretary Kathleen Sebelius said the panel's recommendation did not signal a policy change in guidelines about when women will be screened.
"My message to women is simple. Mammograms have always been an important life-saving tool in the fight against breast cancer and they still are today," Sebelius said in a statement Wednesday. "Keep doing what you have been doing for years - talk to your doctor about your individual history, ask questions, and make the decision that is right for you."
The U.S. Preventive Services Task Force recommended Monday routine mammogram screening for breast cancer every two years after women reach their 50s. The federal panel, which is an independent panel of health professionals, also recommended against health providers emphasizing self breast exams.
The recommendation came with a caveat that the decision of when to conduct a mammogram should be made based on an individual patient's case and risk.
Both screening methods have limitations, and there are tangible harms involved - such as false positives and unnecessary testing without statistical improvements in health outcomes, the panel concluded. False positive results occur in approximately 10 percent of mammography tests, national statistics have shown.
Physicians at Washtenaw County's two largest hospitals said patients shouldn't expect to see any short-term changes to screening based on the panel's findings. They say they're waiting to see how the debate plays out among larger medical organizations.
"We are still supporting recommendations from the American Cancer Society and the American College of Radiology that (women) get screened starting at age 40, unless they are at high-risk, and then it's sometime sooner," said Joanne Barbour Walker, co-director of the breast center at St. Joseph Mercy Hospital. "It will be really interesting to see how this plays out, if it will impact how insurers will reimburse for mammograms."
The University of Michigan's policy has also been to follow guidelines recommending routine mammogram screening when women reach their 40s, and that should remain so, said Mark Helvie, director of U-M's breast imaging division.
The recommendation and the controversy it sparked is nothing new, said U-M School of Public Health management and policy department Chairwoman Paula Lantz.
"There's always been a debate about whether screening in premenopausal women is effective," Lantz said.
Before menopause, women are less likely to develop breast cancer and have denser breast tissue, making it more difficult to find abnormalities, she said. On the other hand, women even younger than 40 do get breast cancer, and it makes sense to err on the side of caution, she said.
The question raised is whether it's a good use of resources to have every single woman screened once she reaches the age of 40, Lantz said. There's a big difference between how physicians, who have discovered breast cancer in young women and been able to treat it, and how those creating health policy feel about screening, Lantz said.
"From a public policy point of view, where you are going to get the most value is over 50," Lantz said. "It's not that it wouldn't help a single person, but it wouldn't be a wise thing to do."
Studies reaffirm findings that screening improves survival rates in breast cancer patients, Helvie said.
He and others in the health care community have questioned why the panel came to its conclusions based on data that previously led to the recommendation for routine screening of women between 40 and 49 years old. The panel appears to have given greater weight to the harms, such as extra personal stress and biopsy testing, that can result from false positives, he said.
Lantz and other physicians said it would take time to see what, if any impact, the panel's recommendation will have.
"The big issue to me is all the models showed a mortality reduction," Helvie said. "What came out of this panel is the most efficient use of mammograms … This should be a concern among patients. I would be asking the question, 'Do I want to be efficient as a patient?"
The findings riled some major cancer organizations, including the American Cancer Society.
"With its new recommendations, the USPSTF is essentially telling women that mammography at age 40 to 49 saves lives - just not enough of them," Otis W. Brawley, chief medical officer of the American Cancer Society, said in a statement.