Ann Arbor veterans hospital honors nurses for nurses week
Posted on Thu, May 13, 2010 : 9 p.m.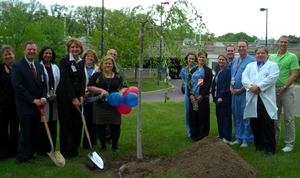 Tina Reed | AnnArbor.com
In front of the Veterans Administration Ann Arbor Healthcare System hospital on a small patch of grass, a small tree was planted Wednesday.
It doesn't look like much yet. But it's the first step in creating a larger garden that will be built over the next few years, officials said.
The plan is to build the garden as a way to honor the nurses at the facility for their service with a small respite for them, as well as patients and families, said Pamela Weber, nurse recruiter. Of the almost 2000 employees at the hospital, 500 are nurses.
"It's that special spot in honor of the nurses. They're sort of that silent caregiver who are there for patients, night and day," Weber said.
The tree planting was held to mark the official end of National Nurses Week, which is also the birthday of Florence Nightingale, the founder of modern nursing.
The project also is part of a wider push at the Ann Arbor hospital to incorporate what's called the "Planetree" patient-centered care concept, or the idea that hospitals should be built to create healing environments, said Stacey Breedveld, assistant director for patient care.
For the past two years, the hospital has been making changes following that concept, such as creating a cafe environment in its main lobby, using warmer tones of wall paint and focusing on small details like having piano music in public areas to create a more comforting environment, Breedveld said.
By the end of 2010, plans call for every inpatient meal to be taken by individual in-person ordering at the bedside. It's those little details that are making the local veterans hospital different from the traditional experience at a veterans hospital, officials said.
"It's not so loud and clamoring and medical-like, but it's kind of like home," Breedveld said.