Camp Take Notice residents apply for subsidies as supporters prepare to protest eviction
Posted on Mon, Jun 11, 2012 : 5:24 p.m.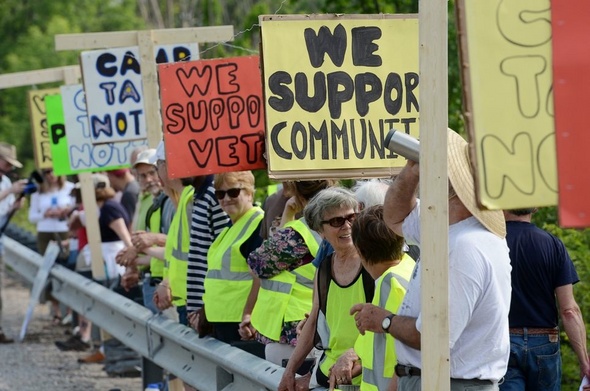 Melanie Maxwell | AnnArbor.com

As the June 22 eviction date draws near for Camp Take Notice, supporters of the homeless encampment west of Ann Arbor are working on multiple fronts to make sure residents find housing.

People who live in the camp - located in an state highway median off of Wagner Road - are signing up for housing subsidies being offered by the state en masse, but also working with church groups to keep the camp in its existing location.

Residents and supporters of the camp received training in nonviolent protest from the Michigan Peace Team on Sunday incase their pleas to the state officials to rescind its eviction notice falls on deaf ears.

"We are hoping to work out a compromise," said Brian Durrance, vice president for Michigan Itinerant Shelter System-Interdependent Out of Necessity (MISSION) a non-profit organization that helps support the tent city.

Durrance said he hopes a compromise is met, but if not, that campers and supporters are preparing to stay at the camp together in defiance of the state's request to leave.

"There are many church supporters who plan to embed themselves," Durrance said.

In an open letter to Gov. Rick Snyder and state Rep. Mark Ouimet, multiple leaders in the county's faith-based community pleaded for the tent city to either be kept open where it is or for the state to help find a permanent site for the camp.

Church leaders from around the county signed the letter and are paying to have it published in AnnArbor.com.

"We need a community conversation and real political will to find a permanent site for CTN and not simply sweep the problem out of sight," the letter states. "Until such step can be taken, this eviction is inhumane and unjust."

Camp Take Notice is located in Scio Township, between Jackson and Dexter-Ann Arbor roads off of Wagner Road near M-14.

Michigan Department of Transportation issued a notice to camp residents on May 29 informing them that they would be arrested for trespassing if not gone by June 22.

The notice was issued in conjunction with the Michigan State Housing Development Authority announcing a program in which housing subsidies for up to a year's rent would be issued to camp residents.

The program will provide rent for up to 40 households. A multi-person dwelling is sill considered one household. There are currently 66 residents at the camp according to Durrance.

Workers at the Washtenaw County Homeless Project Outreach Team are currently on a push to get every resident's paperwork filled out for subsidies.

John Loring, director of Community Support and Treatment at PORT said around 20 people have filled out the necessary paperwork and he hopes to have everyone signed up over the next two days. Loring doesn't see the program realistically being able to place people in 40 households by the deadline. None have been placed yet.

"We're making a push to get that paper work filled out and we'll keep doing it until we're done," Loring added.

"We're going to try, but the date isn't good for a move in. We're finding people don't have places to rent at that time," Loring said. "Hopefully we can get the deadline extended."

According to MDOT, there is no current plan to extend the deadline.

Camp death update

A Camp Take Notice resident was found dead on Sunday. As of Monday afternoon, the Washtenaw County Sheriff's Department had yet to determine a cause of death and were not prepared to release the man's name.

MISSION is planning a memorial service for the man according a press release sent to supporters on Monday.

"With the impending June 22 eviction of Camp Take Notice by MDOT, this has been and continues to be an exceptionally difficult and trying time for the Camp Take Notice community," the release stated. "We request your prayers and support for both (the man's) beloved family and for the Camp Take Notice community, which mourns his passing."

Contact Pete Cunningham at petercunningham@annarbor.com or by phone at 734-623-2561. Follow him on Twitter @petcunningham.