Camp Take Notice founder waits to be arrested as cleanup efforts wrap up
Posted on Mon, Jun 25, 2012 : 7:03 p.m.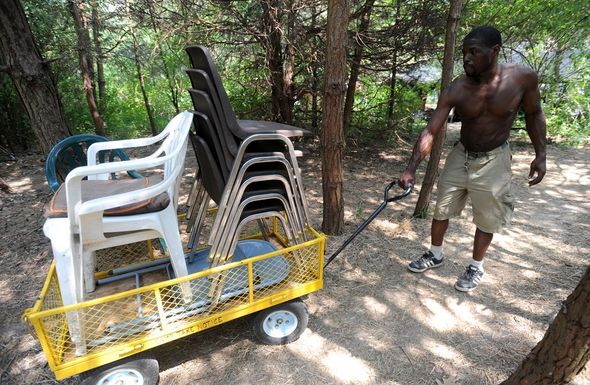 Angela J. Cesere | AnnArbor.com

Though most of the residents of Camp Take Notice have moved on from the recently closed Ann Arbor-area homeless encampment, its founder says the only way he'll be leaving is in handcuffs.

Caleb Poirier - who founded Camp Take Notice in 2009 - said he and other supporters have been staying at the tent city overnight since Thursday with the intention of being arrested by Michigan State Police on trespassing charges.

Residents of Camp Take Notice - which is located on a Michigan Department of Transportation parcel of land in Scio Township just west of Ann Arbor city limits - were ordered to vacate the property or face trespassing charges in May, with a move-out date of June 22.

"The choices that they have made needs to be evaluated by a larger group of people," said Poirier.

Poirier said he has been joined every night by 8-10 people - most of whom are Washtenaw County church leaders - at the Scio Township site as most of the 65 residents of the camp moved out and cleaned up.

Poirier is a board member for the Michigan Itinerant Shelter System-Interdependent Out of Necessity (MISSION), the non-profit that supports Camp Take Notice, but said this is "not an action that is representative of the non-profit."
Caleb arrested
This isn't Poirier first foray into
civil disobedience
. He was arrested twice for trespassing in a five-day span when the camp was forced to move from its original location in 2009. All charges against him were eventually dropped.
Other than the protestors, MDOT has been pleased with the move out of the site.
"MISSION has been working really hard to work on getting anything out of there," said MDOT spokesperson Jeff Cranson. "They're really being good partners in the cleanup efforts."
MDOT regional manager Mark Sweeney, explained why MDOT can't allow the camp on its property in a video released by MDOT on Monday.
"This is just not something that the department can allow for a lot of different reasons. Safety, because of the proximity to the freeway. Sanitation, because there is no running water," Sweeney said. "Quite simply, it is a liability for the state."
MDOT extended its deadline for move-out through the weekend for the camp residents who have been working to clear the area.
"Cleaning the site is an important way for us to show MDOT that we appreciate their support for our community. We are very grateful," said camp resident Jackie Starkey in a press release put out by MISSION.
Starkey is currently one of 33 former camp residents waiting to be placed in housing subsidized by the Michigan State Housing Development Authority specifically for camp residents.
Poirier pointed out that none of the 33 former camp members waiting for subsidies have been housed yet, which Julie Steiner, executive director of the Washtenaw Housing Alliance confirmed.
"Now it's just a matter of getting landlords and finding units," Steiner said. "Most of the folks we're working with have bad credit and eviction history…Most of the landlords we're working with, they have students they can rent to and charge whatever they want and have parents cosign."
Steiner said she hopes having the guaranteed rent from the MSHDA subsidy program will get landlords involved.
"These are issues we deal with every day…Hopefully having it paid for makes that a little easier," Steiner said. "Nobody is housed yet. There are several steps that have to happen, so that's not surprising."
Steiner said roughly 18 people per night have been taking advantage of the Delonis Center's increased capacity since the closing of the camp. She also noted that some veterans that were staying at the camp are now in line to receive Veterans Affairs Supportive Housing vouchers.
Poirier said he has had no trouble getting to and from the camp yet, but acknowledged that might change as MDOT finished installing its eight-foot fence around the camp on Monday.
"I might have a different answer for you tomorrow," he said.
Contact Pete Cunningham at petercunningham@annarbor.com or by phone at 734-623-2561. Follow him on Twitter @petcunningham.