Busing consolidation could save Lincoln schools $589,000
Posted on Tue, May 11, 2010 : 5:38 a.m.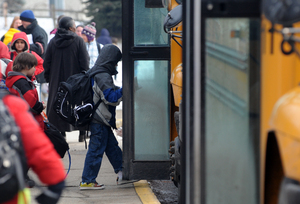 Melanie Maxwell | AnnArbor.com
Lincoln Consolidated Schools could save nearly 23 percent of its $2.8 million transportation budget if the proposed consolidation of busing services among Washtenaw County districts becomes a reality.
This news was delivered Monday evening to the school board and audience by Brian Marcel, Washtenaw Intermediate School District assistant superintendent for business, and Len Brzozowski, Xavier Leadership Center executive director. They have been working on solutions to the problem of high-cost transportation since late last year.
The Lincoln district would reap savings of $589,000 by joining the countywide consortium. The plan would keep drivers and mechanics as WISD employees, thereby guaranteeing pension benefits. It's being offered as an alternative to complete privatization of school bus operations.
"Why couldn't we do what a privatizer does and put that money back into the classroom?" Brozozowski asked.
The list of changes includes ultimately using identical buses throughout the county. They would share components such as tires and run on the same fuel, whereas engine type currently varies from district to district. Parts could be purchased in large quantities at a savings. And cutting the parts inventory could save considerable cash.
"By the fact that we're cooperating across the district boundaries, we can get additional savings because we no longer need 10 maintenance centers, for example," Brozozowski said.
He and Marcel estimated $4.25 million could be saved if five of the county's 10 districts go ahead with the plan. In addition to Lincoln, strong initial interest has been shown by other districts, including Ann Arbor, Whitmore Lake, Willow Run and Ypsilanti.
Transportation staff among the five districts could be cut from 573 to 507.
The plan also recommends an HMO-style insurance plan with health-care savings accounts for those employees.
"Transportation workers are generally heavier users on average of health insurance services," Brzozowski said.
About 85 percent of the savings would be realized in the first year of the plan's implementation, Brzozowski said.
The proposal, which will receive later action, came at the end of a up-and-down week of developments.
The $35-million capital improvements bond sought by district officials was approved in the May 4 election.
But 62 layoff notices went out to teachers on Friday.
"It was not done in malice," Superintendent Lynn Cleary said. "It was done with a lot of care. And trust me, it does not feel good."
The board also voted 5-1 to participate in Phase 2 of the federal Race to the Top program. Michigan education leaders seek to distribute $526 million among participating districts in an effort to increase test scores and the high school graduation rate.
Board Secretary Gregory Gurka cast the only opposing vote.
"There's too many unknowns in the Race to the Top that they want us to blindly approve," Gurka said, noting revisions in the program keep coming to Cleary.
"Things are happening in government now that—you don't know how it's going to end if it's not in black and white in the beginning."