Crusading Ann Arbor teen Katy Butler calls being bullied, movie's R rating blessings in disguise
Posted on Thu, Apr 12, 2012 : 5:59 a.m.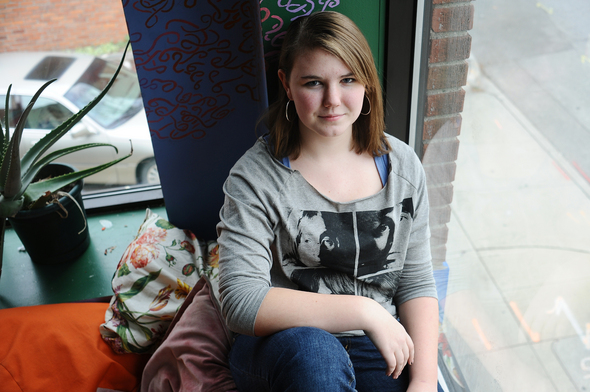 Melanie Maxwell I AnnArbor.com
Editor's note: This story contains language considered as slurs to help explain some of the abuse Katy Butler went through.
When Katy Butler confided in a friend that she was a lesbian at the age of 12, the bullying that followed was a multifaceted and cruel torture.
There was the betrayal of being outted rather than choosing to come out. How could her best friend tell the secret it had taken Butler so much courage to share?
There was name-calling and taunting. Slurs like "fag" and "dyke" rang through the halls of her middle school in Plymouth whenever she walked through.
And, there was physical abuse. She was pushed and shoved, her hand slammed inside of a locker once, breaking her finger.
It was painful. It was traumatizing. Butler's glad it happened.
The experience shaped Butler into who she has become. Now 17 and a junior at Greenhills School in Ann Arbor, Butler is the teen voice of the nationwide anti-bullying movement. Her well-documented campaign to have the Motion Picture Association of America change its rating of the documentary "Bully" ended in triumph last Friday as the movie went from an R to PG-13 rating.
As painful as it was, Butler knows being bullied was a blessing in the worst possible disguise.
"If that hadn't happened I wouldn't be doing what I'm doing right now," said Butler. "I'm glad that it happened to me, and I can take it and do something good with it."
It was the second major victory on the anti-bullying front for Butler in just five months. In November, she led a campaign to change the wording of Michigan's new anti-bullying legislation, which originally included exceptions for those who bullied because of strong moral or religious convictions.
A petition Butler started with her friend, Carson Borbely, at Change.org to change the wording in the law garnered more than 53,300 signatures and the so-called "license to bully" language was eventually removed from the law.
---
The trailer for 'Bully'
---
Butler saw the trailer for "Bully" and was moved by the powerful stories.
"If kids just saw the trailers, it would still make them think," Butler said. "It would still make them realize that what's going on is a problem and there's something we can do about it."
But Butler didn't want kids to just see the trailers. She was baffled by the movie's rating. With an R rating, most of the bullies who had tormented her five years ago would today still need a parental escort to see the movie. Butler again started an online-petition with the goal to gain the same kind of steam she had in November.
She hoped for 50,000 signatures again. The petition was up to 150,000 signatures within the first week. Butler still hadn't even seen the movie.
In just one month, the petition has garnered 523,475 signatures. An amount she described as "ridiculous," which is a good word to describe Butler's whirlwind of a month.
She's been to New York, Los Angeles and Washington, D.C. Butler has attended the Ellen Degeneres and Anderson (Cooper) shows more times than she's had full days of school in March, which is zero.
Butler delivered the signed petitions personally to the MPAA and was given a special recognition award at the Gay and Lesbian Alliance Against Defamation Media Awards.
And yes, she's seen the movie. Seven times, actually, at various promotional events championing for the push to change the rating. She's cried every time, even harder since meeting some of the film's subjects.
"It's 100 times more painful to watch now. I mean I actually know these people," Butler said.
Meeting Kelby Johnson, a transgender teen who identifies as male, was particularly powerful because the abuse he experienced was so similar to her own.
"When I saw Kelby's story in the movie and his mom talking, I was crying because it was so personal," Butler said. "It hit home."
Butler's teachers at Greenhills have worked out ways for her to complete her assignments remotely. On the days she's been able to attend class for at least part of the day over the past month (5) her classmates have been shocked to see she has assignments completed that they're scrambling to finish.
"Everyone was like 'how are you getting these things done,'" said Deano Smith, 11th-grade principal and science teacher at Greenhills. "One thing I've observed is kids under a lot of pressure will learn how to prioritize, and that's what Katy's been able to do while working for a great cause."
Already with an impressive resume, Butler hopes to one day pursue a career working in social activism. The Greenhills faculty recognized what she could accomplish with the "Bully" campaign was more important than being stringent on an attendance policy.
"Our faculty are flexible and willing to go the extra mile to help our students achieve and pursue their goals," said Luke Jansen, Greenhills Dean of Students for the Upper School. "What could possibly be better for Katy's education than what she's experienced over the past few weeks."
Butler was in seventh grade when she first opened up about her sexual orientation to anybody. The traumatic experience that followed kept her from sharing her secret again for many years. When her parents decided to move her to Greenhills, it was because of the enormity of the high school she'd have to attend in Plymouth, not the abuse she'd already faced.
She had kept the bullying, and her homosexuality, from them. Her only solace in those days came in the comfort of playing with her younger sister, Kelly, who was 9 at the time.
She found the confines of the small, private school welcoming, but still wasn't ready to make a leap of faith and come out to her classmates and parents until her sophomore year.
"It went so poorly in middle school. But the environment was so great at Greenhills that I decided to (come out) in my sophomore year," Butler said.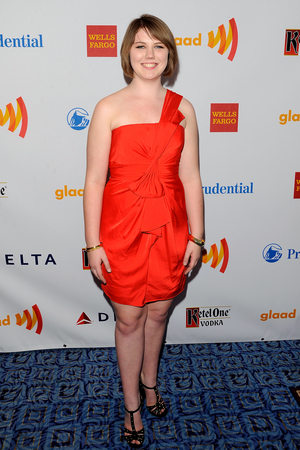 The experience was nothing like middle school. Butler was accepted and embraced by family and friends.
She had begun to be heavily involved with the Riot Youth, a youth-led safe space for "lesbian, gay, bisexual, transgender, queer, questioning youth and their allies" at the Neutral Zone teen center in Ann Arbor. She became a leader, using her own negative experience as her most powerful tool.
It's that experience, she said, that laid the foundation for what she's helped accomplish in her efforts for "Bully."
"As she's been reliving this horrible anguish, one thing you don't see is anger over it," said Katy's father, Mike Butler. "While it was a difficult period, a mental and physical struggle, she hasn't been angry and for that I'm very proud and happy for her."
In the weeks since getting all of the national attention, Butler has talked to some of the people that stood by the wayside as she was bullied years ago. As her father said, she hasn't been angry, but encouraged.
"I did have a couple contacts with kids who went to middle school with me and were like 'I'm so sorry you went through this, I wish I had done something. What can I do to help?' " Butler said. "That's incredible to hear."
"As sad as that was then, they're willing to do something now and that's great," Butler said.
A group she hasn't heard from is the ones she couldn't avoid five years ago: her bullies. She hopes they're getting the message, too.
"There is a reason why they're doing it. Most likely at some point in their lives they were the people who were being bullied," Butler said, recalling a point in the movie when one of the subjects, Alex Libby, says he wants to one day be a bully. "We have to start there, with the kids who are being bullied because those kids can turn into bullies."
Butler will continue in the anti-bullying fight. She'll help make sure the movie and the accompanying tools director Lee Hirsch has provided for educators gets into schools, and will soon work with national anti-bullying legislature in Washington.
"Bully" is currently in limited release; it expands somewhat this week and is scheduled to open April 20 at the State Theatre in Ann Arbor and everywhere else.
The movie will likely far exceed even the most optimistic of projections prior to Butler's efforts. Her campaign to change the movie's rating has brought it more national attention than the best marketing strategy ever could.
So in a way, the MPAA's initial R rating might be one of the best things Butler could have hoped for.
"It's given people a chance to stand up and say we believe in this. We want bullying to be looked at and we want to be changed in our homes, in our schools," Butler said. "This R rating on the movie has given people a chance to (stand up) and to connect with each other."
Another blessing in disguise.
Contact Pete Cunningham at petercunningham@annarbor.com or by phone at 734-623-2561. Follow him on Twitter @petcunningham.