Development plan for brain-controlled prosthetic arm receives $1.2 million federal grant
Posted on Wed, Jul 27, 2011 : 12:41 p.m.
The development of a brain-controlled prosthetic arm is poised to move forward thanks to a $1.2 million federal grant, the University of Michigan said in a joint announcement today.
U-M engineering researchers are collaborating with researchers from three universities on the project to design a prosthetic arm that would allow amputees to feel what they touch and control movement with their brains.
The team began collaborating in 2007 and includes researchers from U-M, the University of Maryland, Drexel University and Rice University.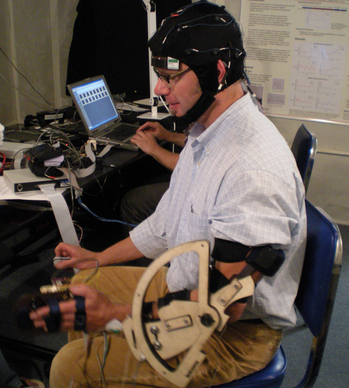 J. Contreras-Vidal | University of Maryland
A prototype has already been developed with separate funding, a spokesperson for Drexel University said.
The $1.2 million grant from the National Science Foundation will fund a new, four-year initiative the research team hopes to translate to a new prosthesis interface for amputees that could be incorporated in the next generation of prosthetic arms.
The idea is that down the line, patients could be able to affix a discreet neural decoder to the scalp like a pair of glasses. The device would allow its wearer's brain to interface with the prosthetic, according to Brent Gillespie, associate professor of mechanical engineering at U-M.


"What we're doing is in some ways rather low-tech, but it's expected to have a high pay-off because we are integrating control and sensory feedback. We aim to close control loops," Gillespie said in a news release.