Bond motion denied for man accused in brutal rape
Posted on Tue, Aug 7, 2012 : 4 p.m.
A motion to set bond for an Ypsilanti Township man charged in a brutal rape, was denied at a hearing in the Washtenaw County Trial Court Monday.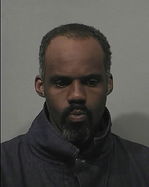 Courtesy of the Washtenaw County Sheriff's Office
The hearing for David Neal, 38, was postponed from last week, when the prosecution alleged in court that Neal confessed to tying up the female victim during recorded phone calls at the Washtenaw County Jail.
Stephen Adams, Neal's public defender, had made a motion for bond to be set at $50,000, but asked for an adjournment when the prosecution said it had the alleged confession on tape. Adams said he needed time to listen to the recording before pursing the motion,
In court Monday, Adams said he had an opportunity to review the audio given to him by the prosecution and that he had "nothing more to say" about the motion.
Judge Melinda Morris denied the bond motion and set a trial date of Sept. 17.
Neal remains in jail with no bond. He is accused of holding a box cutter to the woman's throat and repeatedly raping her May 17 before tying her up and putting her in the trunk of a car, from which she eventually escaped and contacted police. The alleged incident occurred in Ypsilanti Township.
Details of the case came out during the victim's testimony at the preliminary examination in district court last month.