BLIGHT BEAT:

Ypsilanti Township asks court to shut down auto shop operating in subdivision

Posted on Mon, Oct 22, 2012 : 5:57 a.m.
Ypsilanti Township is taking legal action against a homeowner who is operating an auto repair shop out of his garage in a subdivision.
The homeowner at 8248 Blue Jay Lane, Isaac Small, has been ticketed three times and found guilty in District Court of a civil infraction for running the shop.
Zoning ordinances prohibit the operation of an auto repair shop in a residential zone, and the township is asking a Washtenaw County Circuit Court judge to halt the operation and order Small to pay the township's legal bills within 30 days.
Township attorney Doug Winters said neighbors have complained since May 2009 about obstructed streets, loud noises and wreckers dropping off cars. The shop is being operated in a subdivision near Textile and Whittaker roads.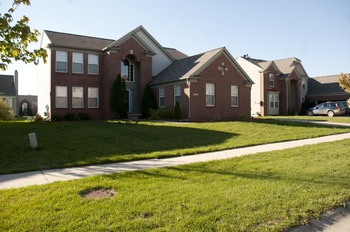 Tom Perkins | For AnnArbor.com
"It is totally inappropriate for someone in a residential environment to have that kind of a repair operation," Winters said.
Earlier in the year, neighbors complained about Small having a total of 10 cars in his garage, his driveway and the street. They described his property as "a total mess." Neighbors also complained about people waiting around outside the home for their cars to be repaired.
In June, a Washtenaw County Sheriff's Department deputy spoke with a man who was sitting on a folding chair outside the home. The man told the deputy his car was being test-driven by Small.
At an August hearing, Small told a 14-B District Court magistrate that all of the cars belonged to him and members of his family, but the magistrate ruled against him after the township provided evidence that his assertion was false. Small paid $300 in fines but has continued to work on vehicles, the township alleges.
Township records show that Small appears to specialize in repairing Volvos and BMWs.
A Volvo and a BMW were parked outside the home on Oct. 8. The garage door was closed and no one answered a knock at the door. Winters said an ordinance officer counted eight cars outside the home and witnessed a tow truck dropping off another car just one week prior.
Winters said he hopes Small has ceased working on cars at the home, but his office hasn't received any indication that that is the case.
"(Small) hasn't filed a response to the lawsuit, so obviously he thinks he is entitled to do this," Winters said.
The township has also named HSBC Bank, which issued a mortgage for $271,000 on the house in 2007, as a defendant in the civil suit.