Bike lanes offer a measure of safety, but aren't always maintained, riders say
Posted on Thu, Apr 8, 2010 : 6:04 a.m.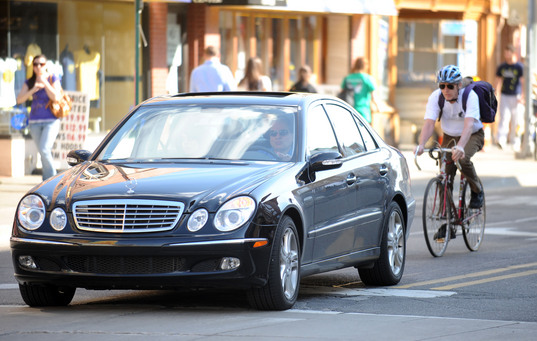 Angela J. Cesere | AnnArbor.com
Many Ann Arbor area bikers say they feel safest riding in bike lanes, but even in places where they exist, using them is not always an option.

"The city doesn't maintain them that much and they don't get patched very often," said Christina Jovanovic, a graduate student at the University of Michigan's Aquatic Science program.
Jovanovic doesn't own a car and uses her bike as her main mode of transportation. She said that bike lanes are often full of debris.
"Home owners dump leaves in the bike lane during the fall. I haven't seen too much garbage, but a lot of broken glass ends up there," Jovanovic said.
Don Broadway, chairman of the Ann Arbor Bicycle Touring Society board of directors, said bike lanes full of debris force riders out into traffic, compromising safety. "They just need to be more maintained in general," he said.
Ann Arbor's mayor, John Hieftje, a bike rider himself, agrees, and says the maintenance issue comes down to a lack of money.
"It's a constant problem. The same funding streams that are used to repair the streets are also used to clean the bike lanes," Hieftje said.
"I'm bicycle commuter. I'm on the bike path and I know exactly what people are talking about."
Hieftje also said that the money from Michigan Act 51, which is used to maintain roads, has gone down. The state has also cut the funding in half for winter road maintenance on state roads, Hieftje said.
"So when the state did that, the city had to step up, and so what's happened is that's also taken money out of the road maintenance fund. But we'll do our best to catch up and that season is starting right now," Hieftje said.