Bicyclist injured in crash on Washtenaw Avenue in Ann Arbor remains in critical condition
Posted on Tue, Aug 21, 2012 : 11:39 a.m.
The medical status of the 55-year-old Ann Arbor woman who was hit by a sport utility vehicle while riding her bike across Washtenaw Avenue in Ann Arbor has not changed, police said Tuesday.
Ann Arbor police Lt. Renee Bush said the woman still is in critical condition at University of Michigan Hospital. There's been little change in her status since she was first admitted after the crash at 5:40 p.m. Aug. 13.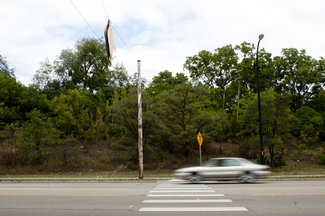 Jeffrey Smith | AnnArbor.com
Bush said police are not releasing the woman's name. AnnArbor.com continues to attempt to reach the family to learn the woman's identity and get a better description of her status.
The woman suffered a head injury and several broken bones during the accident. A 25-year-old Ann Arbor man driving a 1999 Ford sport utility vehicle hit the woman as she crossed Washtenaw Avenue on her bike in the crosswalk, police said. A witness told AnnArbor.com the woman was sent flying approximately 7 feet in the air before coming to rest on her side.
Huron Valley Ambulance transported her to U-M hospital in critical condition.
Bush said the case is still open and not turned over to Washtenaw County prosecutors because police are still waiting for a final determination on the woman's health status. The possibility that the woman's health could improve or worsen is one of the few things keeping police from turning investigation materials over to prosecutors.
"We can't do anything until we know how her medical condition is," Bush said. "It's an open case until something happens."
It's possible that prosecutors may make a decision on charges before the woman's permanent condition is known, Bush said, but at this point police are unclear on what will happen.