with video & gallery:

Australian band, The Kin, to play concert at Ann Arbor home for local grad recovering from surgery

Posted on Sat, Jun 23, 2012 : 5:59 a.m.
After spending 29 days in the hospital and missing the last day of his senior year, a promised trip out West with his dad, a Cedar Point outing with classmates and all graduation festivities, 19-year-old Will McGuckin will be given one unexpected, perhaps cooler present — a lawn concert with his favorite band.
The Kin, an eclectic band comprised of Australian brothers Thorald and Isaac Koren and New York drummer "Shakerleg," will perform in a Dicken Elementary School teacher's front yard today. The concert is to honor McGuckin, who missed his graduation from Pioneer High School and has struggled with health issues for much of his life.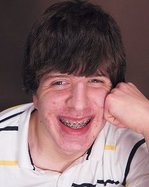 Will was born with multiple, inexplicable congenital anomalies, according to his mother,
Mary Byce
. Bones in his head had fused in utero, he was blind, had a hole in his heart, was on oxygen and his abdominal wall never formed.
"I couldn't lay him flat or all the acid in his stomach would come up," Mary said.
Before entering kindergarten, Will already had undergone 23 surgeries. But over the past 15 years, his health problems were less severe, his mother said.
On the evening of May 21, Will said he was home alone when he began experiencing the worst pain he'd ever known.
"I always had stomach problems, but never like that," he said.
Will's cell phone was dead and the family, like many today, no longer has a home phone. He walked next door to use the neighbor's phone and call his mom, who is an intensive care nurse. But when he got to the neighbor's house, he collapsed, Mary said.
She said it wasn't that unusual for Will to faint. However, after waiting in the emergency room and using 56 ice packs to ease the pain, doctors told them that Will's bowels had twisted and he would need emergency surgery.
After the surgery, Will suffered severe complications and nearly bled to death, which led to his admittance into ICU. He also developed pancreatitis.
"He is a warrior, certainly," Mary said, adding the experience has been terrifying and exhausting. Even after Will was allowed to come home on Monday, she said, "I was sobbing and he was in horrible pain…
"He's been forced to sacrifice so much."
Will's strength has touched Cathy Cieglo since he was in her preschool class. Cieglo was both Will's preschool and first-grade teacher at Dicken Elementary. She kept in touch with him and his mother over the years, and was invited to Will's graduation party.
"When I called to RVSP, Mary told me the party had to be canceled and that Will was in the hospital," Cieglo said. "I went to visit him . . . and he told me the music from The Kin had been keeping him company and helping him through his situation."
Cieglo said she ran into Will at a Kin concert in Ann Arbor about a year ago, when the trio played a show at The Ark. After the concert, Cieglo spent some time talking with The Kin, and the band offered to play for her elementary class.
"I am a music freak," she said. "And I'm not using that word loosely. . . . I see such a healing power and a universal language in music."
Cieglo saved Isaac Koren's contact information after he and the band performed for her students, and when she learned Will was so inspired by their songs and their talent, she sent Koren an email.
"Their music makes me feel adventurous; it's almost like a freedom," Will said of The Kin. ". . . Their music calms me down and puts me in a good place. I enjoy it so much. . . . It takes me away from everything going on."
About a week and a half ago, Will received a phone call from Koren at the hospital. The international musician had nothing but encouraging words for the 19 year old.
Koren said during a phone interview with AnnArbor.com on Friday that he and the band were moved by Will's determination to hold on.
"He's a tenacious young kid. He's going to pull through," Koren said. "There has been a lot of adversity in his life and I think we all have something to learn from him. We're just really humbled by his outlook and ability to triumph."
Inspired by Will's story, Koren told the very geeked teenager that the band would like to come back to Ann Arbor to play a special concert for him.
"I was over-the-top excited," Will said. "I don't know how I'm inspiring to them . . . but Isaac and (Thorald) — they're friends with me on Facebook. And we've been talking back and forth and stuff, and they've been really, really incredible."
Mary said she is so grateful to The Kin for their generosity and for making her son so elated.
"This kid has such incredible integrity; I've just learned I have to follow his lead. If he can face these challenges with such courage and such humor..." she said, choking back tears. "To have others say they're inspired by him... that's something I already know because I see it in myself, in how he inspires me.
"If I walk through the door exhausted, he's always there to say, 'What's wrong? What can I do for you? How can I help?'" Mary said. "He's just incredibly loving and kind and adept at people — that's where his genius lies. All you have to do is talk to Will to see what a good attitude he has."
The family still hopes to throw Will a graduation party later in the summer. In the meantime, Will said he is signing up for classes at Washtenaw Community College. He aspires to a career in which he can work with his hands, either with cars, bikes or photography, which he said is his true desire.
The Kin concert will be at 2 p.m. today (Saturday, June 23) at Cieglo's home, 2621 Emerald Ave. in Ann Arbor. Cieglo said there will be a $10 charge to help cover the cost of The Kin's flight from New York to Michigan. Whatever money cannot be raised, Cieglo said she will be covering.
"Cathy really made this all possible," Koren said. "All we had to do was encourage her to raise the money to help fly us out here... We are really riding on the wings of her generosity. We're just really excited about everyone getting together around Will and celebrating him and his tenacity."
Watch the video below to see Will McGuckin receive the phone call from The Kin while at the University of Michigan Hospital.
Staff reporter Danielle Arndt covers K-12 education for AnnArbor.com. Follow her on Twitter @DanielleArndt or email her at daniellearndt@annarbor.com.