Kyle Poplin | People
Column:

At age 57, Ypsilanti woman pursuing her dream of a career in information technology

Posted on Sun, May 20, 2012 : 2:22 p.m.
Education is important to Yvonne Carol Hatcher. So important that she's been willing to fight for it.
Hatcher, 57, of Ypsilanti, is finishing up her online master's degree in information technology at American Intercontinental University.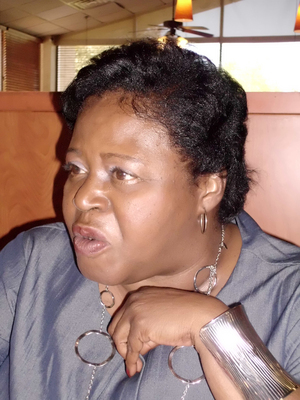 Kyle Poplin | AnnArbor.com
She's struggled to pay for the classes and she's not sure how she's going to pay to fix her computer, which is currently broken. She's got a bad back - the result of a car wreck - and her endurance isn't what it used to be.
But those are trivial problems compared to those she's already overcome.
A graduate of the Detroit public school system, Yvonne was functionally illiterate until about five years ago. She could read just fine - in fact, she's had a lifelong love affair with books - but she had trouble writing. After enrolling in the University of Phoenix she quickly saw she had no chance of passing unless she got help.
So she contacted Washtenaw Literacy and got hooked up with volunteer tutor Pat Smith. Their original plan was to work together for two hours every two weeks. They ended up meeting much more often, usually working on class assignments together, and eventually became fast friends.
Yvonne says she admires Pat as much as anyone she's ever met. Pat admires Yvonne, too. Especially her stubborn attitude toward learning: "I've never had to worry if she was going to give up on it," Pat said.
Yvonne worked so hard that she won Washtenaw Literacy's AnnArbor.com Award for Achievement Learning in 2010.
Why didn't Yvonne give up? After all, the world would have understood, and her stress level would have been minimized, if she'd settled for a menial job and stopped her pursuit of a career working with computers.
"It was important to me that my children and grandchildren were proud of me," she said. "I wouldn't be thought of as a welfare mother with my heels propped up waiting on my next welfare check."
Raised on the west side of Detroit, Yvonne's family was middle class. Her father worked at Chrysler for 37 years and her mother put in 35 years at U.S. Army Tank-Automotive Command.
She got married and lived in Detroit until she and her husband separated, and Yvonne learned that her son had fallen in with a bad crowd. When she had to rescue him from a "drug house" when he was 11 years old, she knew she and her three children had to leave Detroit: "I had to move if I was going to save him." Three days after that rescue, they set out for Texas.
Yvonne found work with Comcast and in the home health industry, but she fell in love with the idea of computers. She thought a career in the industry was a pipe dream.
Seven years ago, after 15 years in Texas, with her children grown, she moved back to Detroit to help take care of her parents. She couldn't help it; she started dreaming about those computers again. Finally, she decided to go for it.
There were times when she wanted to quit. Then she'd think of her kids and grandkids, and even back to her own childhood, when her grandmother would criticize her for giving up on a task before she saw it through.
She kept working. Now, her words have more meaning when she tells her family, "You can't go anywhere in life without an education. If you don't want to scrap for everything, you've got to invest some time into your education."
She earned her degree from Phoenix five years ago, but chose not to walk in the graduation ceremony.
"My daughter read me the riot act" for not walking, Yvonne said, adding, "I will walk this time in Chicago" to pick up her master's degree in person.
Her graduation is not a done deal. She's still hemmed in by her fixed income, and there's her computer to worry about. But Yvonne doesn't seem overly concerned. She's climbed higher mountains than those currently in her path.
In fact, she's been busy planning her next job. She says she'd "love to work as a project manager, as part of a team upgrading an IT system, troubleshooting, whatever."
No matter what job she lands, Yvonne will have put in the time and effort to do it well.
"I'll be worth my salt when I go to work," she said. "That's important to me."