Heritage.com:

Ann Arbor woman rescues kitten with broken leg, possibly tossed from car

Posted on Wed, Jun 27, 2012 : 4 p.m.
Ann Arbor resident Jackie Urbanczyk is a lover of living things, she told Heritage.com. Thus, the woman could not leave a frail, gray, tabby kitten in harm's way when she spied it Sunday while driving along Interstate 696.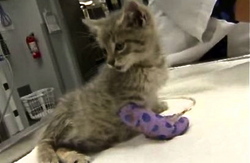 Courtesy of Petfinder
Urbanczyk was traveling east on I-696 near Coolidge Highway west of
Royal Oak
when she picked up the tiny kitten and took her to
Dworkis Dog & Cat Hospital
in Southfield about 6 p.m. Urbanczyk
told Heritage
she believes the kitten must have been tossed from a moving vehicle.
The veterinarian said the kitten, which has been nicknamed "Peggy Sue," has a severely broken leg, an injured lip and was in shock from the trauma, according to the Heritage article.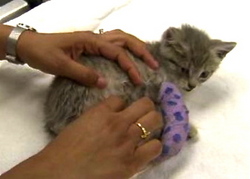 Courtesy of Petfinder
The kitten's leg will need to be amputated, but the vet said the surgery cannot be completed until Peggy Sue gains another pound. She weighs just about 1 pound right now and is estimated to be five weeks old, the article said.
The Humane Society of Huron Valley recently began its annual "Kittypalooza" kitten adoption special every Sunday through Aug. 27. Shelters are known to have an abundance of kittens in the spring and early summer, a direct result of feral cats and cats not being spayed or neutered, shelter operators have said.
The Madison Heights-based Animal Welfare Society is collecting donations to help pay for kitten Peggy Sue's leg amputation and medical costs. Visit the society's website for more information or check the kitten's "Sponsor Me" page on PetFinder. The Animal Welfare Society can be reached at (248) 548-1150.
Read the Heritage.com article here.
Staff reporter Danielle Arndt covers K-12 education for AnnArbor.com. Follow her on Twitter @DanielleArndt or email her at daniellearndt@annarbor.com.