with map:

Ann Arbor traffic patterns to change as thousands of students move into dormitories

Posted on Mon, Aug 20, 2012 : 2:59 p.m.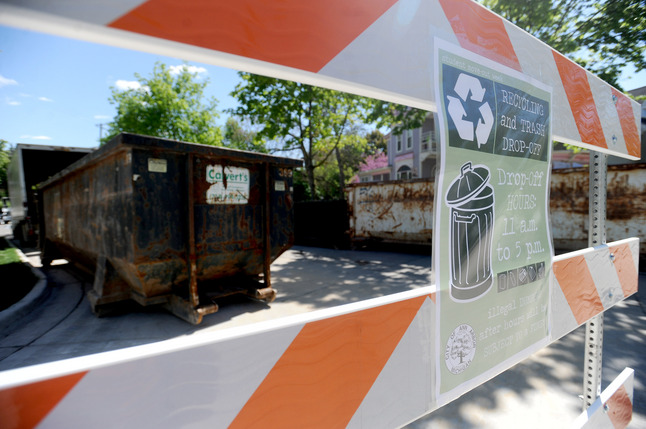 Angela Cesere | AnnArbor.com

It's coming up on that time of year again: Move-in week in Ann Arbor.

The city is changing traffic patterns and restricting parking on various Ann Arbor streets near University of Michigan's campus in an effort to make student move-in go smoothly.

More than 27,000 undergraduates will take classes in Ann Arbor this fall and U-M expects roughly 9,700 of them to live on campus. The majority of those students, with the help of their parents, move in during a three-day period beginning next week on Aug. 29.

The large influx of people and activity is a reminder that the summer is fading away, students are back and with them so is traffic on State Street.

"It's the great migration," joked Peter Logan, communications director for U-M housing.

U-M is paying the city $10,450 for occupancy of the public right-of-way during the move-in period. The city also is prohibiting those with peddling licenses and sidewalks permits from using them within a one-block radius of affected streets.

For its part, the university tries to limit the chaos of move-in week with hundreds of volunteer student helpers and booths serving ice cream to hot and hungry families. Recycling stations also are scattered throughout affected areas for move-in waste.

"We have a pretty successful formula for managing the groups of students as they move in, assisting with the move in process," Logan said.

The affected roads include:
Thompson - one way southbound from East Jefferson to Packard
Madison - one way eastbound from South Division to South State
Observatory - one way southbound from East Ann to Geddes
East Washington - one way westbound from Fletcher to South State - meters bagged
Maynard - meters bagged from Jefferson to East William
North University Court - meters bagged
Monroe - from State to the end of the cul-de-sac - meters bagged
Oxford - parking reserved for move-in from Hill to Geddes
Washington Heights - from Observatory to E. Medical Center Drive
East Ann - one-way eastbound from Zina Pitcher Place to Observatory
Traffic patterns will be disrupted beginning Aug. 29 at 6 a.m. and ending Aug. 31 at 10 p.m.
Three of U-M's dorms will be closed this fall, reducing housing capacity on campus. East Quad will be closed all year for a $116 million renovation and Baits I is closing permanently because of a decaying facility. The Lawyer's Club, which houses solely law students, also is closed during a $39 million renovation.
Meanwhile three new luxury apartment complexes —Landmark, City Place and Zaragon West— are opening this year, bringing another 1,000 beds to the Ann Arbor student housing market.
The following is a map of affected areas in Ann Arbor: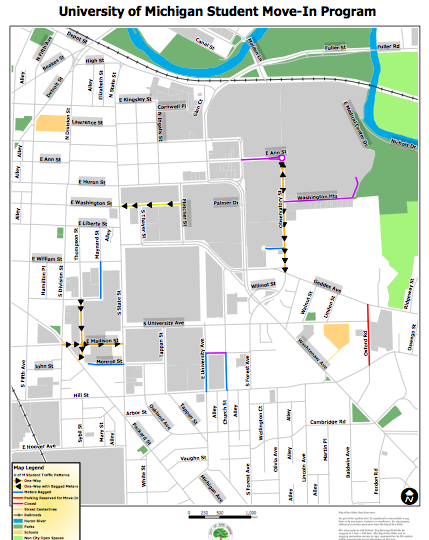 See more move-in maps here.