Ann Arbor theaters review security; one asks patrons to skip masks after Colorado shooting
Posted on Fri, Jul 20, 2012 : 5:15 p.m.
Movie theaters in the Ann Arbor area are reviewing security measures and one is asking patrons not to wear masks to showings of "The Dark Knight Rises" in the wake of a deadly shooting spree in Aurora, Colo., early Friday.
"People really like to dress up and we're fine with that," said Drew Buikema, manager of the Goodrich Quality 16 theater on Jackson Road. "We are requesting people not wear masks."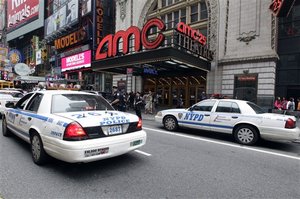 AP photo
If patrons show up with masks, they will be asked to remove them, he said.
Masks have not been banned at Rave Motion Pictures on Carpenter Road, said Danny DiGiacomo, director of marketing for the chain. It's up to the discretion of general managers at the individual theaters to monitor theatergoers, he said.
"We take security very seriously and will continue to make every effort to ensure that our moviegoers are safe when they visit our theaters," he said.
Some theaters in metro Detroit and across the nation had beefed up security and some banned masks and costumes after the shooting that left 12 dead and 59 wounded at a showing of the latest Batman film in Aurora, Colo. Police said a man wearing a gas mask and black SWAT gear entered the theater through an exit and fired upon the crowd. Police arrested James Holmes, a 24-year-old doctoral student in neuroscience near a car behind the theater.
MJR Theaters had decided to ban masks and costumes, the Detroit Free Press and Detroit News reported. AMC Theatres issued a statement saying it was reviewing safety and security procedures.
Buikema said Friday afternoon attendance had been good at movie showings throughout the day, especially given the near-perfect weather and the ongoing Ann Arbor Art Fair, both of which tend to suppress ticket sales. He did say, however, the "Dark Knight" attendance was somewhat below what would have predicted, while attendance at family-oriented movies was a bit higher than he expected.
As for talk about the shootings, he said most of that has been from the media. "I get a few casual comments," he said. "But I really haven't had any customers come to me with direct concerns about it."