Ann Arbor swimmers depart today for London to swim English Channel for ALS research
Posted on Sat, Jul 21, 2012 : 5:56 a.m.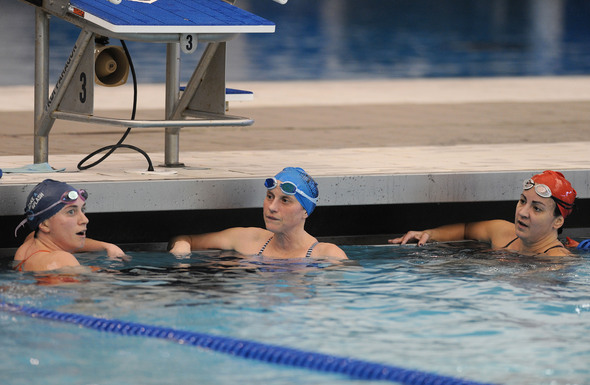 Angela J. Cesere | AnnArbor.com

Six Ann Arbor women preparing to swim the English Channel July 26 to raise money for ALS research have garnered national attention as they leave today for London.

The fierce determination and hard work of the team to raise awareness and funding for ALS has been fueled by the spirit of one of their members, Amanda Mercer, 44, who discovered she had breast cancer midway through training and has been battling the tide of treatments and training ever since.
Angela J. Cesere | AnnArbor.com
Mercer, who finished her last round of chemotherapy about a week before the team's scheduled departure, was the focus of a recent
Detroit Free Press article
and a
story on ESPNW
.
The team of Mercer, Jenny Sutton Jalet, Melissa Karjala, Emily Kreger, Susan Butcher and Bethany Williston has set its fundraising goal at $120,000 to help find a cure for ALS. All are former college swimmers.
Amyotrophic lateral sclerosis (ALS), also known as Lou Gehrig's Disease, is a progressive neurodegenerative disease that affects nerve cells in the brain and the spinal cord. It eventually leads to paralysis and then death. There is no known cure.
The Ann Arbor team will attempt to break the world record for an all-female six-member relay swim for the two-way crossing from England to France at the Dover Straight.
The world record is 18 hours, 59 minutes.
One way, the distance is 21 miles. With the effects of the tides that don't allow for a straight crossing, the distance will be much longer.
Swimmers will take turns in a relay fashion, each logging an hour in a set order. Some portions of the swim will occur at night.
The swim across the English Channel comes with strict regulations: No wet suits, even though the water is chilly, between 59 and 64 degrees. No contact with the boat, except to pass essentials like food and water.
For more information and to donate to the group's cause, visit channelforals.org.