Ann Arbor schools to spend $7.81M on energy improvements
Posted on Thu, Aug 16, 2012 : 5:57 a.m.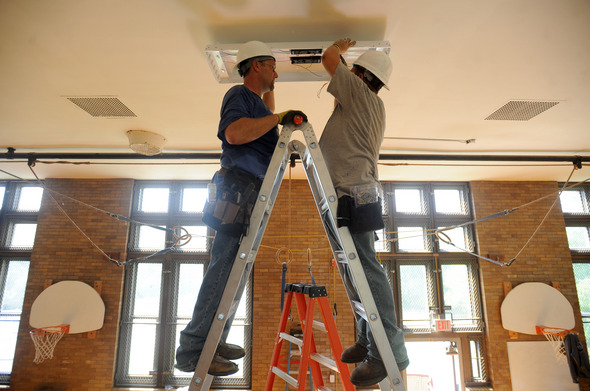 Angela J. Cesere | AnnArbor.com

Ann Arbor Public Schools launched a $7.81 million energy savings capital improvement project this summer that's expected to reduce the district's total energy costs by $699,359 per year.

Ann Arbor earmarked the nearly $8 million in April to complete the fifth phase of an energy savings capital improvement program that the district has been involved in for a number of years.

Johnson Controls, Inc. was awarded the contract for the work. Every building within AAPS will see some improvements through the plan, said Randy Trent, executive director of physical properties for AAPS.

In addition to the nearly $700,000 in annual savings, Phase 5 is expected to generate a one-time savings of $200,000 to $400,000 via a rebate through DTE Energy.

The projects began on July 1 and will be completed in December. Because of their timing, AAPS should see a savings of around $500,000 for the 2012-13 school year, officials said.

With school districts being forced to tighten their belts due to budget constraints and reductions in per-pupil funding, many are looking for ways to upgrade equipment and cut energy costs.

Ypsilanti Public Schools' Board of Education heard a presentation Monday from Dragonfly Solutions, a company specializing in energy efficiency, to implement a similar energy savings program at YPS. If the board approves it, the company said Ypsilanti could achieve additional revenues of $4.6 million in the first 12 to 24 months.

On Tuesday, the Saline school board also authorized its superintendent to enter into negotiations with Energy Education Incorporated for an energy savings contract.

For Ann Arbor, Trent said electricity accounts for the largest single portion, about a third, of the district's energy bills. A large portion of the Phase 5 energy capital improvement projects will be electricity-related.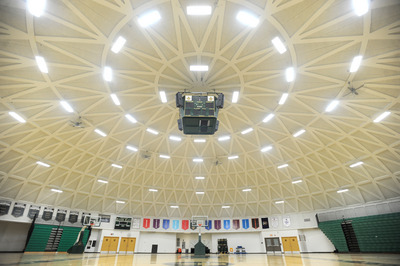 Angela J. Cesere | AnnArbor.com
State-of-the-art LED parking lot lights will be installed district wide, 12 schools will see hallway lighting upgrades and all buildings' gymnasiums will be upgraded with occupancy-controlled lighting, Trent said.
The district will install more than 10,000 feet of additional pipe insulation throughout 28 buildings and 780 night set-back thermostats in 19 schools, Trent said. It will repair the air control systems in 19 buildings and replace 1,100 steam traps in 10 buildings, he added. Steam traps are automatic valves that allow for the passage of condensation while containing or preventing the passage of steam.
Trent said he and others in the physical properties department at AAPS meet annually with building leaders to discuss which upgrades, improvements and repairs are needed for that particular school that year.
"We try to prioritize what people are looking for," he said. "The trick is to balance our limited resources and get the district running as efficiently as possible."
Controlling electricity costs and setting the temperatures in buildings after hours so the district isn't running 24 hours per day is important in minimizing expenses, he said.
Most of the district's money for capital improvement projects now comes from the sinking fund Ann Arbor Public Schools' voters approved, rather than a capital improvement budget or a line item in the general fund, as was the norm when Trent started with the district in 1984. This is because of recent budget constraints and funding reductions from the state School Aid Fund, he said. The $7.81 million for the Phase 5 energy project will come from 2004, 2005 and 2010 sinking fund monies.
Trent added the district's utility budget — for gas, water and electricity — is now about $4.9 million, compared with about $5.4 million in 1984. Next year, the budget will be $4.7 million, he said.
"And the district has grown tremendously, like we now have a new high school," he said.
There is a separate maintenance budget that is used for small items and quick fixes, such as painting, repairing a sink or a toilet or replacing a light bulb, Trent said. That fund also is shrinking.
Big items, such as air conditioning units, roofing and flooring replacements, are paid for out of the sinking fund, Trent said.
Replacing some boilers, hot water pumps and air conditioning units also will be among the Phase 5 energy capital improvement project. Additionally, the project will include installing high-tech liquid pool "covers" at six of Ann Arbor's swimming pools.
A sinking fund is a limited property tax, Trent said, that is considered a "pay-as-you-go method" for addressing building remodeling. He said state law allows a district to levy up to 5 mills for no longer than 20 years. Ann Arbor's sinking fund levies 1 mill and was approved for five years.
"It is more like a bank account where you can access the money on-hand to pay for projects as they are completed," Trent said. "The district will not pay interest for the money used," as opposed to a bond.