Ann Arbor Republican Chase Ingersoll takes stage alone in 53rd District state House debate
Posted on Wed, Sep 29, 2010 : 6:02 a.m.
Republican Chase Ingersoll said it seemed a bit unusual Tuesday night when Democrat Jeff Irwin didn't show up on time for their scheduled debate at CTN studios in Ann Arbor.
"I'm usually the one that's tardy," Ingersoll admitted.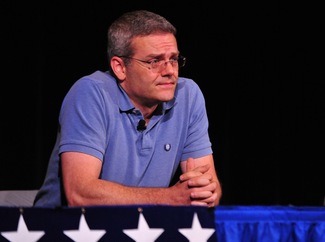 Ryan J. Stanton | AnnArbor.com
Ten minutes later, with Irwin still nowhere in sight, Ingersoll found himself in the middle of a one-man debate hosted by the League of Women Voters of the Ann Arbor Area.
Irwin expressed regret for missing the debate late Tuesday night, saying he got the date mixed up on his calendar.
Ingersoll, owner of A2 Global Shipping in Ann Arbor, faces off against Irwin, a Washtenaw County commissioner, in the Nov. 2 election.
The two Ann Arbor residents are vying for the 53rd District state House seat being vacated by state Rep. Rebekah Warren, D-Ann Arbor.
Ingersoll said he realizes his chances of winning in such a heavily Democratic district are slim to none, but he's running to give Republicans like him a choice on Election Day.
"My message may be for a very small minority, but that minority's never had somebody worth voting for," Ingersoll said Tuesday night.
Ingersoll half-jokingly said he believes his best chance of winning the election is if Irwin finds himself entangled in some sort of scandal. Simply missing a debate probably won't hurt Irwin's chances of cruising to victory in November, though.
Ingersoll has been running a relatively quiet campaign.
"I'm not out there raising money, or knocking doors, or anything like that," he said. "That's part of the whole process that I never liked, and I never liked when people knocked on my door."
Ingersoll fielded questions Tuesday night that touched on protecting the state's water resources, the state budget, partisan gridlock in Lansing, education funding, his stance on a constitutional convention and priorities if elected.
As for the idea of a constitutional convention, Ingersoll said he doesn't think the average voter in Michigan understands the issue enough or is qualified enough to elect delegates who would go to work on drafting a new constitution for the state.
"I think the Michigan voting populace is completely unqualified to actually do that," he said.
Ingersoll took exception to a question about shortfalls in state education funding.
"First of all, I disagree with the premise that not enough money is being spent on education," he said, concluding "there's plenty of education out there."
On the topic of protecting Michigan's water resources, Ingersoll said the federal government should have "absolutely no say" about the water here in Michigan, and how the state's water resources are used should be determined only by Michigan.
As for the issue of partisan gridlock in Lansing, Ingersoll questioned whether that's really all that bad. Following the principle that government which governs least governs best, Ingersoll said, perhaps Michigan is better off that the Legislature isn't passing too many laws.
Ingersoll said he's opposed to increasing taxes.
"All you're simply going to do is have businesses head over to Ohio or Indiana," he said. "I could give you a close-to-home example: Right now, if a small transportation outfit titles and registers its vehicles in Ohio, for example, it saves thousands of dollars a year over Michigan. Why is that? Has Ohio found a way to be more efficient?"
As for state budget cuts, Ingersoll said, "Everybody's going to have to take a haircut."
Ingersoll laid out other concerns about the interplay between state and federal government, as well as between local municipal governments and the state.
"I don't think it makes any sense to be sending money from Michigan to the federal government, and then Michigan sitting back here asking the federal government how we can spend it," he said. "Likewise, I don't think it's appropriate for Washtenaw County ... to be sending money to Lansing and then putting our hand out and asking Lansing to send it back to us with a whole list of rules on how we can spend it.
"Are we in Washtenaw County too stupid to figure out how we should spend our own money and what we should spend it on?" he added. "Or are we somehow benefiting in sending it out to a Legislature that brings in many of the crooks and thieves from Detroit, who are elected by crooks and thieves in Detroit, and then they dabble around and they help articulate the rules that we in Washtenaw County then have to live by?"
Ingersoll concluded: "I think we'd be better off if basically Lansing ceased to exist and if the federal government ceased to exist. We're big enough to handle it ourselves."