Ann Arbor ranks No. 4 in the nation for producing Peace Corps volunteers per capita
Posted on Wed, Dec 12, 2012 : 2:52 p.m.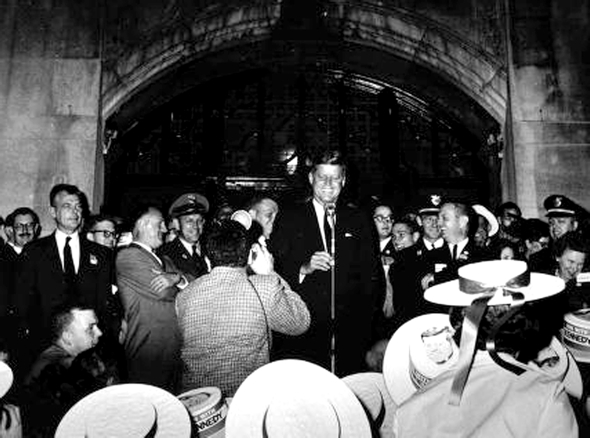 Half a century after John F. Kennedy delivered an improvised speech at the University of Michigan that inspired the beginning of the Peace Corps, Ann Arbor ranks No. 4 in the nation among metropolitan areas for producing Peace Corps volunteers per capita.

According to a new report, Ann Arbor generated 34 volunteers this year, or 9.86 volunteers for every 100,000 residents, moving up 16 spots from its No. 20 ranking last year. Ann Arbor trails only Fort Collins-Loveland, Colo., Missoula, Mont. and Ithaca, N.Y., on the list now.

The Peace Corps is an organization sponsored by the U.S. government that sends young people to work as volunteers in developing countries.

On the whole, Michigan produces 3.2 Peace Corps volunteers for every 100,000 residents, putting it No. 8 among states with 316 of its residents making a difference overseas.

"I am proud that Ann Arbor and Michigan are so well represented in Peace Corps service worldwide," said Peace Corps Midwest Acting Regional Manager Joshua Becker, a returned Peace Corps volunteer who served in Fiji.

Since Kennedy established the Peace Corps by executive order on March 1, 1961, more than 210,000 Americans have served in 139 host countries.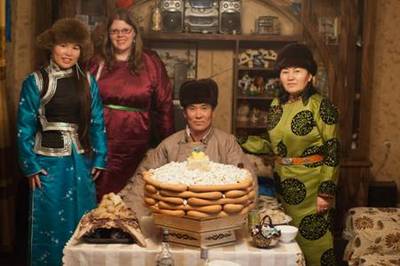 Courtesy of Peace Corps
Today, 8,073 volunteers are working with local communities in 76 host countries in agriculture, community economic development, education, environment, health and youth in development.
Kate Borkowski, a Peace Corps public health education volunteer, said she was active in community service through her church and high school in Ann Arbor before she left for Mongolia. She said technology allows her to stay close to loved ones in Michigan.
"I usually keep in contact with my family and friends through Facebook and Skype," she said. "Internet is available nearly everywhere in Mongolia now."
Historically, Michigan has produced 6,866 Peace Corps volunteers who have worked to promote a better understanding between Americans and the people of the 139 countries in which they served.
"Our region has a strong network of returned volunteers who believe that Peace Corps makes a difference in the communities served, in the lives of volunteers themselves, and in the United States," Becker said. "By sharing their own experiences living and working in communities abroad, they bring a global perspective back to Michigan and inspire others to consider international service."
The history of the Peace Corps traces back to 2 a.m. on Oct. 14, 1960, when then-Sen. John F. Kennedy challenged thousands of U-M students on the steps of the Michigan Union to give two years of their lives to help people in countries of the developing world.
After an overwhelming response, Kennedy signed the executive order that created the Peace Corps just a few months later in March 1961. According to the Peace Corps, Michigan's two flagship public universities — U-M and Michigan State University — consistently place on the annual list of schools that produce the most alumni volunteers.
This year, U-M ranks fifth and MSU ranks seventh among large universities nationwide. Each school has more than 90 alumni currently serving.
Interested applicants are encouraged to apply now at www.peacecorps.gov/apply for an opportunity to serve overseas by summer or fall 2013 and into early 2014.
2012 Top 10 Metropolitan Areas per capita (volunteers per 100,000 residents):
1. Fort Collins-Loveland, Colo. (14.7)
2. Missoula, Mont. (11.0)
3. Ithaca, N.Y. (10.8)
4. Ann Arbor, Mich. (9.9)
5. Olympia, Wash. (9.5)
6. Eugene-Springfield, Ore. (9.1)
7. Madison, Wis. (9.0)
8. Bremerton-Silverdale, Wash. (8.8)
9. Rochester, Minn. (8.6)
10. Lebanon, N.H.-Vt. (8.6)
2012 Top 10 States (total volunteers):
1. California (1,084)
2. New York (448)
3. Texas (381)
4. Washington (378)
5. Illinois (352)
6. Florida (351)
7. Pennsylvania (330)
8. Michigan (316)
9. Virginia (303)
10. Ohio (291)
2012 Top 10 States per capita (volunteers per 100,000 residents):
1. District of Columbia (8.1)
2. Vermont (7.2)
3. Oregon (6.4)
4. Washington (5.6)
5. New Hampshire (5.6)
6. Colorado (5.4)
7. Montana (4.9)
8. Maine (4.4)
9. Minnesota (4.4)
10. Idaho (4.0)
2012 Top 10 Metro Areas (total volunteers):
1. New York-Northern New Jersey-Long Island (345)
2. Washington-Arlington-Alexandria (338)
3. Los Angeles-Long Beach-Santa Ana (331)
4. Chicago-Naperville-Joliet (266)
5. Boston-Cambridge-Quincy (205)
6. San Francisco-Oakland-Fremont (204)
7. Seattle-Tacoma-Bellevue (200)
8. Philadelphia-Camden-Wilmington (170)
9. Minneapolis-St. Paul-Bloomington (161)
10. Atlanta-Sandy Springs-Marietta (149)