Ann Arbor Schools: Tech bond voter turnout likely to be less than 10 percent
Posted on Tue, May 8, 2012 : 5:03 p.m.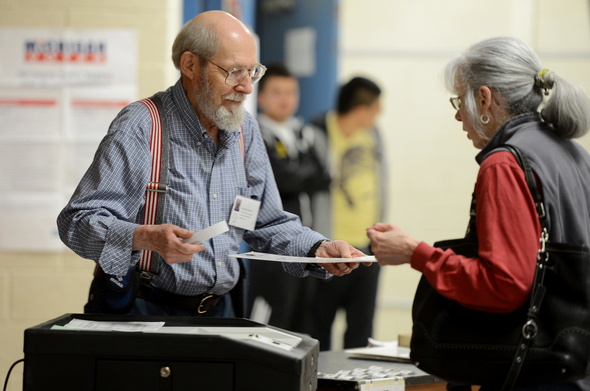 Melanie Maxwell I AnnArbor.com
The Ann Arbor Public Schools millage proposal for a $45.8 million technology bond is drawing a lower turnout than usual, said Ed Golembiewski, director of elections for Washtenaw County.
As of about 3:15 p.m., Golembiewski said based on numbers reported thus far from a smattering of the county's largest precincts, he expects an overall turnout between 8 and 10 percent for the AAPS millage.
"Maybe even a little less than that," he said.
Five percent is City Clerk Jacqueline Beaudry's prediction. She said there were about 1,700 absentee ballots collected and beyond that, precinct turnout has been "really, really light." Some of the University of Michigan precincts are in low double-digits, she said.
Ypsilanti voters, who are being asked to consider two ballot proposals, a 1 percent income tax and a Water Street debt retirement millage, are going to the polls in greater numbers.
Golembiewski said Ypsilanti is on pace for a 20 to 25 percent turnout, based on preliminary polling data.
He said the Ypsilanti ballot proposals have very vocal proponent and opponent groups, whereas the AAPS millage is "a little less on people's radar."
Election workers at Scarlet Middle School in Precinct 6 of Ann Arbor's Third Ward said, as of about 3:15 p.m., they had 85 people come in to vote. Marianne Lee said a number of voters commented on how the technology bond millage was not well advertised.
Lee said she got something in the mail today from the school district.
"There is usually a spurt in voters after the dinner hour, though," Lee said.
John Jutte, a Precinct 5 resident in the city's Second Ward, said he did not know about the election until he saw the "vote here" signs at the Assembly of God Church. The church tallied 101 voters by 3:30 p.m.
Jutte voted "yes" on the proposal, saying he believes technology is a good investment in the future of children's lives and the state. Beyond thinking technology is a good thing, he admitted he does not know anything about how the tech bond money would be spent.
Jutte said he wished the school district would have better informed the community outside of the school buildings about the millage proposal.
Tuesday's special election is estimated to cost AAPS $86,000.
If passed, the millage would levy, on average, an additional .51 mills per year until 2023.
According to AAPS, voters whose homes have a market value of $100,000 would pay an extra $26 per year. Residents with a $200,000 to $300,000 home would owe $51 to $77 more.
If the millage proposal fails, the district would need to find $3 million to $6 million for crucial infrastructure upgrades in the upcoming school year, officials said. AAPS is facing a $17.8 million budget shortfall for 2012-13.
Staff reporter Danielle Arndt covers K-12 education for AnnArbor.com. Follow her on Twitter @DanielleArndt or email her at daniellearndt@annarbor.com.