Pioneer High School scavenger hunt a no-go for 2012 seniors?
Posted on Tue, May 22, 2012 : 2:59 p.m.

Photo by Wikimedia Commons user Dwight Burdette

Pioneer High School's annual scavenger hunt may be no longer, after 31 students from the class of 2011 were punished for trespassing, vandalizing and defecating on school property.

A tradition that is at least 10 years old in Ann Arbor may be broken, said Principal Michael White.

"We have not heard anything at all this year in reference to it," he said. "And usually we hear something about whether or not it's going to take place.

He added: "To my knowledge, it only got out of hand the one year."

In 2011, about 250 seniors took part in the tradition. It resulted in $2,800 in damage to two rival Ann Arbor high schools and 31 suspensions.

The scavenger hunt, similar to a road rally, involves teams of students competing to finish a list of tasks for points. The more outlandish or difficult the task, the more points up for grabs.

Students do not have to complete all of the tasks to win. They simply need to accumulate the greatest number of points. The team with the most points takes home a pot of cash that students contribute to in order to participate, White said.

Items on last year's list included defecating on athletic fields at Skyline and Huron high schools, spray painting the letter 'P' on school property and cutting down nets at Huron's tennis courts.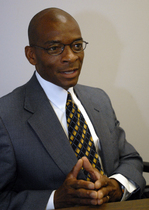 Generally, the "popular kids" or student council members create the list of items, White said, adding the scavenger hunt is not a school-sanctioned event.
He has heard generally from his staff that the scavenger hunt does not appear to be an interest of this year's class, he said. Administrators have warned students about the hunt at every chance they've had this school year and will again on Friday as seniors pick up their caps and gowns.
"Oh yeah, they've gotten more than an earful," White said with a chuckle. "Anytime we've talked about graduation or the all-night party, anytime we had the senior class together, it was discussed. They probably got sick of hearing about it.
"We didn't say don't do it. We don't mind if they have fun, but they have to be smart. And we encouraged them to have a trusted adult look over the list."
District spokeswoman Liz Margolis added that the 2012 student council presidents have stated they do not want to organize the scavenger hunt.
In White's five years as principal, the hunt typically has occurred the week prior to the seniors' last days, which began Monday. So the scavenger hunt should have taken place the weekend of May 18, he said.
There also have been rumors that students are waiting until after the June 7 graduation.
White said if students do participate after graduation and make poor choices like last year's class, they will be on their own.
"They'll really be in the legal system this year because we'd have no grounds to discipline them," he said.
Last year, the school requested to handle the situation internally, White said. He suspended seniors who participated in the illegal activities for their last five days of school and charged them $90 in restitution for the damages to the other high schools. They also were banned from attending the all-night senior party after graduation.
He said the kids were decent kids, many college-bound, who had never given the school a problem before.
"This year, if they choose to do something, there is nothing to stop the law from affecting them. They'd all get criminal records. What we did last year was light by comparison to what could have happened to these kids," White said. "It'd cost their families a lot of money in legal fees, too."
The school was criticized for how it handled what was called a "senior prank," and White in particular was accused of becoming "very angry" and even coercing students into confessing their involvement in the crimes.
But White said last year's incident was not a senior prank. "It was downright nasty and breaking the law.
"A senior prank is doing something to your school — water balloons, putting a car in the swimming pool, the Big Boy on the roof — not what they did, trespassing and defacing school property."
He said in the few years before he was hired at Pioneer, the seniors brought in chicken guts and pig blood and had a large-scale food fight that got "completely out of control."
"That's why I came in so mean and so harsh. People allowed this kind of behavior at Pioneer for many, many years. … Good kids were thinking that having escalating pranks were the norm, that making poor choices was the cool thing to do."
He said there have been zero senior pranks in his five years at Pioneer, something he hopes will continue, despite his leaving in June to take a principal position in Illinois.
Staff reporter Danielle Arndt covers K-12 education for AnnArbor.com. Follow her on Twitter @DanielleArndt or email her at daniellearndt@annarbor.com.