Ann Arbor officials hope to use $642K federal grant to hire 4 new firefighters
Posted on Thu, Jun 14, 2012 : 12:30 p.m.
Ann Arbor officials are hoping to hire a handful of new firefighters thanks to a recently announced federal grant and an expected increase in state funding.
The U.S. Department of Homeland Security's Federal Emergency Management Agency has awarded a $642,294 Staffing for Adequate Fire and Emergency Response (SAFER) grant to the city to fund three recalled firefighters for two years.
The city applied for the SAFER grant in February. In May, with staffing levels a concern, and FEMA unable to say when a decision would be made regarding the grant, City Administrator Steve Powers instructed Fire Chief Chuck Hubbard to go ahead and recall the three laid-off firefighters.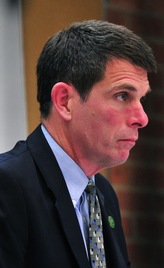 Powers said in an email on Thursday an amendment will be requested to the city's grant award to allow the funds to be used to hire four new firefighters instead of the recalled firefighters.
He pointed out new hires are eligible in the SAFER program and are less expensive than recalled firefighters.
Hubbard has said he hopes to increase the fire department's staffing levels to 88 full-time employees to improve the city's response to fires.
"The SAFER award moves the city closer to the target in a sustainable way," Powers said. "The three recalled firefighters bring the department's staffing to 82. Federal approval of the city's amendment request would increase staffing to 86."
Contributing to the city's ability to add firefighters, Powers said, is an additional $70,000 in state fire protection funding. The increased state funding takes effect Oct. 1.
Powers said federal consideration of the amendment request will take time. He anticipates an answer will be received before October and possibly within 60 days.
In addition to concerns about staffing, the fire department has been plagued with having fire trucks broken down and out of service. Hubbard confirmed on Wednesday that the city's only ladder truck and its tower truck have been out of commission for a while, leaving the city without a fire truck of its own that can combat fires in tall buildings.
Hubbard said he made arrangements to have Pittsfield Township automatically send an aerial truck on all of the city's structure fire calls until the city gets at least one of its aerials back. He said the Ladder 5 truck, with a 75-foot ladder, was due back today after repairs and the tower, which has a 95-foot ladder, should be back by the end of June.