community wall links:

Ann Arbor named one of nation's 'most tolerant' cities; IRIDE Aug. 2 offers cycling trip for able-bodied and disabled alike

Posted on Tue, Jul 24, 2012 : 9:58 a.m.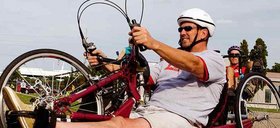 publicity photo from CIL

From a cross-country bike ride for people with disabilities to Ann Arbor being named the 10th most tolerant city in the nation, here's a roundup of some of the stories posted on AnnArbor.com's Community Wall over the past few days:

By: Melissa McPherson: On August 2nd, 2012 some 60 cyclists will begin a 300 mile journey across the state of Michigan as part of the sixth Annual Great Lakes Independence Ride (IRIDE).

The Great Lakes Independence Ride was created in 2007 by staff at the Ann Arbor Center for Independent Living. In 2007, only fifteen riders made the trip from the west side of Michigan to Ann Arbor, but it was a successful ride and IRIDE began to grow. This year almost sixty riders of all ages and abilities will make the four day trip.

By: ann_arbor_guy: Ann Arbor makes another Top 10 list; Tolerance Index

Ann Arbor ranks number 10 on the Geographic Tolerance index from The Atlantic Cities - Place Matters report.