Ann Arbor Jaycees and crowds brave the heat for Fourth of July Parade
Posted on Wed, Jul 4, 2012 : 2:26 p.m.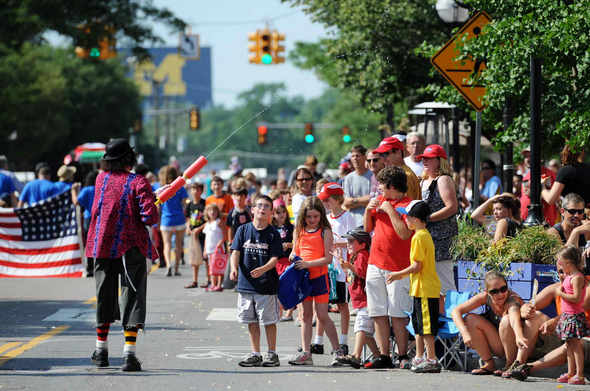 Melanie Maxwell I AnnArbor.com
Related story: PHOTO GALLERY: Images from the 22nd Ann Arbor Jaycees Fourth of July parade
Young and old braved the heat Wednesday morning to watch and participate in the 22nd annual Ann Arbor Jaycees' Fourth of July Parade in downtown Ann Arbor.
Temperatures hovered around 90 degrees with a heat index more than 95 according to Weather Underground. Spectators at the parade huddled in clumps of shade, drank water, and applied liberal amounts of sunscreen in an attempt to fend off mother nature and enjoy the festivities.
The parade route was crowded, especially on the corner of East Liberty and South State, where there were four or five rows of on-lookers in some places.
Luke Schuldt, 8, and his sister, Elizabeth, 5, arrived at 9:30 to get good seats along Liberty near State. They both had one reason in mind for coming out to see the show.
"I like the parade because you get to collect a lot of candy," Luke said. "It's hot out, but it's OK because I'm going to drink a lot of water."
Tom McAllister, president of Ann Arbor Jaycee's, said the 83 participants in this years parade were the most in a number of years.
"We've very excited to be a part of the community and to see the community come together for the parade. We've seen a ton of community support this year," he said.
"We had a community spirit contest this year won by the Parents of Multiples organization, and we had over 70 children come out for the bike decorating contest before the parade."
McAllister also said that the Jaycees were providing free water and sunscreen to participants to try to help them beat the heat.
While most of the organizations in the parade were passing out candy, the event was not just for the children. Bob and Phyllis Dillon have been coming to the Fourth of July parade every year for over 20 years, and just celebrated their 60th wedding anniversary two weeks ago.
"I used to pass out American flags in the parade," Bob Dillon said. "But now we just come and sit and enjoy it in the shade."
The parade had a wide range of participants. A number of local politicians and their supports passed out stickers and candy as they shook hands with onlookers. Local churches and service organizations marched in the parade as well as a contingent from the Skyline High School marching band and the Pioneer High School cheer squad.
One of the most popular participants was the Redford Jaycees. A troop of six men pushing old lawnmowers made their way down the parade route performing tricks and routines that would have made the Shiners proud. They wove between each other, performed kick lines, led the crowd singing "Do Wah Diddy," and even "ghostrode the whip."