community wall links:

Ann Arbor Derby Dimes compete in Buhr Park on June 2; Washtenaw VVA chapter sends 3,000th care package

Posted on Tue, May 15, 2012 : 9:35 a.m.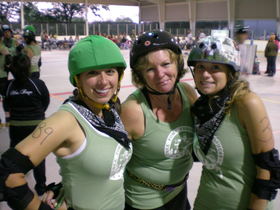 Richard Retyi | AnnArbor.com Contributor
From the Ann Arbor Derby Dimes hosting "mini-bouts" in Buhr Park to the Washtenaw County VVA chapter marking the 3,000th package sent to troops, here's a roundup of some of the stories posted on AnnArbor.com's Community Wall over the last few days:
By: Bob Kwiecinski : VVA Chapter 310 sent 3000th package to troops
Washtenaw County Vietnam Veterans of America (VVA) Chapter 310 recently packed and shipped their 3,000th care package over a 9 year period to Support Our Troops around the world.
By: Alaina Lemon: Roller Derby in Ann Arbor!! Buhr Park, June 2nd.
The Ann Arbor Derby Dimes host a series of mini-bouts: the Atomic Cupcakes vs. Toronto Junior Roller Derby. Then, a three-way, rolling bout.
By: Moses Lee: The #AnnArbor List: Top Seniors at Skyline High School
By: Dawn Farm Education Series: How to Support Recovery and Not Support Addiction
By: Lynn Slagle: TRUNK-A-PALOOZA - Sat May 19 - Whitmore Lake Middle School
By: Michael Klement, AIA: NARI Tour of Remodeled Homes: May 19th. and 20th.
By: Ann Arbor Women Artists: "Design Your Kairos: A Mixed-Media Journey in Creating Time through Creativity," led by Marney K. Makridakis of Dallas, TX.
By: Ypsilanti Jaycees: Mom 2 Mom Sale
By: Linda Reeves: THE GEM EVENT Hosted by the Greyhounds of Eastern Michigan May 18-20
By: Carrie Riedman: 22nd Annual Ann Arbor Garden Walk Saturday, June 9, 10 am to 4 pm
By: Aneita Fallot: FREE Child Identification Fair
By: drivetime: Commercial Roofing Contractor Bloom Roofing Hires Digital Marketing Agency
By: Southern Michigan Railroad Society: Railroad Train Excursions - Starting May 19 -- at Southern Michigan Railroad
By: Eileen Peck: St. Francis of Assisi Catholic School Will Raffle 2012 Mustang Convertible Lease 6/1
Arbor.com's Community Wall is a spot for local people to post local stories, news and announcements. To post a story, sign in to AnnArbor.com, then go to www.annarbor.com/community and use the Got News? Tell Us function at the top to submit your news. If you have a photo to add, e-mail it to us at community@annarbor.com, and we'll insert it into your story.