Ann Arbor officials won't put city parkland charter amendment on November ballot
Posted on Fri, Aug 10, 2012 : 5:59 a.m.
The Ann Arbor City Council heeded the advice of its citizen-led Park Advisory Commission Thursday night and decided against putting a city charter amendment on the November ballot.
Council Member Jane Lumm, the primary sponsor of the defeated proposal, was pushing for an amendment to put new restrictions on repurposing city parkland.
Specifically, she wanted the charter to go a step further to say that longterm repurposing of city parkland requires a vote of the public. Right now a public vote is required only if parkland is actually sold.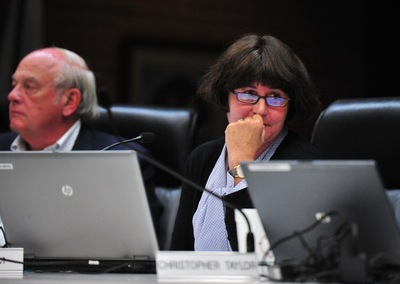 Ryan J. Stanton | AnnArbor.com
After an hour and a half of discussion, the council shot down the proposal 7-4 with Lumm getting support from only three other council members:
Marcia Higgins
,
Mike Anglin
and
Stephen Kunselman
.
After voting down Lumm's proposal, the council unanimously approved putting the city's parks millage on the November ballot for renewal. The parks millage is a six-year property tax levy of 1.1 mills that was last approved by Ann Arbor voters with 60 percent of the vote in November 2006.
According to information provided by Parks Manager Colin Smith, the millage costs the average homeowner $117 a year and would raise more than $5 million in the first year if renewed.
Mayor John Hieftje and other council members pushed for postponement of Lumm's charter amendment regarding parkland at the last council meeting to give PAC a chance to weigh in first.
PAC Chairwoman Julie Grand said the commission met on Wednesday afternoon and unanimously decided Lumm's proposal wasn't a good idea.
She said the commissioners clearly support city parks, but they felt the language in the proposed charter amendment did not match the intent of providing additional protection.
"Instead, there were a number of concerns about the process, uncertainty of the language and unintended consequences of the proposed amendment," Grand said. "We take amending the city charter seriously and did not feel that the proposed amendment was ready."
Grand said PAC will have a retreat in the coming months and it's her hope that a subcommittee can continue to look at the issue of how to effectively protect parkland. Grand wasn't at Thursday's meeting, but Commissioner Alan Jackson appeared before council members to formally represent PAC's position.
"We do think that stricter restrictions on the use of parkland is certainly worth careful consideration," Jackson said. "We think the process of drafting the ballot language was unnecessarily hasty. We think that a more careful process is likely to yield more predictable results."
But he said some question the need for a remedy when "none of these egregious transfers" of city parkland for non-park uses have occurred.
Jackson said PAC also believed there would be a number of gray areas where what constitutes a "non-park" or "non-recreational" use, as worded in the charter amendment, would be left up to interpretation.
"We think there is some potential that the city's exposure to litigation could be increased by this charter amendment," he added.
Nancy Shiffler, chairwoman of the Huron Valley Group of the Sierra Club, lobbied the council to approve the charter amendment Thursday night.
"This proposed amendment can't anticipate every proposal that might come before council, but it's sets the framework for a constructive discussion and citizen involvement in what happens with parkland," she said. "I urge you to put this proposal before the voters and let them weigh in."
Shiffler said a fundamental question has been raised by the city's proposal to build a new Amtrak train station on city parkland on Fuller Road.
"That fundamental question being: Does the City Council have the authority to change city parkland to some other use through long-term leases, agreements, contracts or some re-designation?" she asked.
Anglin, D-5th Ward, made clear the charter amendment was at least in part an effort to give voters a chance to weigh in on building a new train station on Fuller Road.
"And it could be, quite simply, that the voters will say 'we approve.' With that being said, it moves forward," Anglin said.
Hieftje repeatedly has argued that although the piece of property on Fuller Road is technically city parkland, it has been a surface parking lot leased to the University of Michigan since 1993.
Kunselman, D-3rd Ward, said it's disingenuous to say the parkland that would be lost is no more than a parking lot, though. He recalled it was a soccer field in the 1980s.
"I know that the mayor in the past has made campaign pledges to add additional soccer fields in our community," he said, suggesting it could go back to being one.
Council Member Sandi Smith, D-1st Ward, said she thought it was important for the council to honor the group of citizen volunteers who serve on PAC by listening to their advice.
Smith said the current council has a good track record when it comes to protecting parks and she has full faith that future councils will be good stewards as well.
"Since 2000, we have added 151 acres to our parks system and we have not lost a single acre, nor has it been disposed of or otherwise repurposed," she said. "Since 2007, we've added 44.5 acres. And just this year, we've added 10 acres to our system, so I think that's a pretty good record of being park stewards."
Lumm made references to what she described as "loopholes" in the 2008 charter amendment that added the requirement of voter approval for sale of parkland.
"While the 2008 charter change prohibited sale of parkland without the prior approval of voters, it did not address mechanisms other than a sale, such as lease or longterm contracts," Lumm said. "That could result in the very outcome the 2008 amendment was trying to prevent: Converting parkland to a non-park or a non-recreation use without the approval of residents."
Council Member Christopher Taylor, D-3rd Ward, called Lumm's proposal a solution in search of a problem and said it's bad policy. He also said it was flat-out wrong for Lumm to say her proposal closes unintended loopholes since the City Council intentionally deleted references to leases in the 2008 amendment.
"The continued assertion that lease was part of the initiative's intent is, I believe, demonstrably false and its known repetition is simply shocking," he said.
In addition to Fuller Park, Lumm has said she fears the Huron Hills Golf Course, technically a city park, is vulnerable without the further protections offered by her proposed charter amendment.
The city considered a proposal in 2010 to privatize management of the golf course and allow a company called Miles of Golf to build an 11,000-square-foot golf center and driving range on the property. The city ultimately decided against the idea, but it left some nervous.
Hieftje argued the way Lumm's charter amendment proposal is worded right now, it still wouldn't have stopped the city from contracting with Miles of Golf.
"This doesn't do what it says it does," he said.
Hieftje said Ann Arbor has a growing parks system and no steps have been taken to diminish it during his time as mayor.