Ann Arbor City Council approves $187K weapons screening contract for Justice Center
Posted on Sun, Jul 8, 2012 : 1:02 p.m.
The city of Ann Arbor will pay up to $187,000 this year to have the Washtenaw County Sheriff's Office provide weapons screening services for the Ann Arbor Justice Center.
The City Council approved the contract Monday night, noting the Sheriff's Office provides a staff of trained court security officers at a cost of $25.25 per hour per officer.
Keith Zeisloft, administrator for Ann Arbor's 15th District Court, said he expects three officers will be assigned per day to the court on staggered schedules.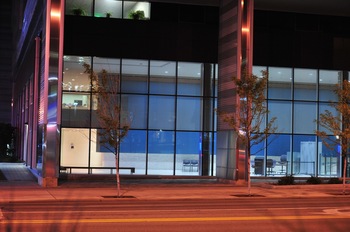 Ryan J. Stanton | AnnArbor.com
Because it's a per-hour contract, the total daily or weekly number of hours worked may be fine-tuned to match visitor volume and reduced court business hours, Zeisloft said. Funds for the contract are included in the court's approved budget.
The new contract comes as the city continues to debate the location of the security checkpoint inside the Justice Center, which houses both the Ann Arbor Police Department and the 15th District Court, as well as the city's information technology department.
The City Council voted 8-2 in May to approve a $150,000 hanging sculpture that will make its way into the lobby of the Justice Center later this year, but there have been concerns about public accessibility and visibility of the soon-to-be-installed piece.
Currently, visitors must ditch their cellphones in a locker, empty their pockets and go through the security checkpoint just to enter the lobby where the public art installation will hang. City officials are continuing to discuss the location of the security checkpoint.