DTE Energy: Ann Arbor area power expected to be restored by Saturday
Posted on Thu, Jul 5, 2012 : 1:25 p.m.
DTE Energy customers in Washtenaw County currently without power can expect to have their lights turned on no later than Saturday evening, barring further inclement weather.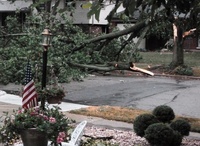 Lucy Ann Lance | From Facebook
Len Singer
, a DTE spokesman, said crews are working around the clock in 16-hour shifts to bring power back to the region.
"Washtenaw County currently has about 15,000 homes without power," he said. "And that's only a fraction of the approximately 210,000 homes in Southeast Michigan."
Singer said most of those without power are consolidated in Oakland County, but there have been outages across the region due to the recent storms.
"We've had a series of 4 storms in the last 48 hours," Scott Simons, a spokesman for DTE, said.
"We were down to 17,000 without power before this morning's storms, but now we'll just have to re-assess our priorities and where we're going to put our resources."
Singer said that the company is working on a "dual track," trying to fix the largest problems from the new storms while restoring power to the customers who have been without it the longest.
"It's all part of putting together an overall plan that will restore power as quickly as possible," he said.
Click here for the DTE outage map.