A Community High tradition revived: 'Comstock' concert to reunite school bands at Wheeler Park
Posted on Sat, Jun 30, 2012 : 5:59 a.m.
With an open door policy on hall passes, no school-sponsored sports teams, and an open mic policy at commencement, it's fair to say Community High School isn't a typical school.
Why would its class reunions be any different?
On Sunday, Community High alumni will celebrate the 40th anniversary of Ann Arbor's alternative high school with not just a reunion of classmates, but band mates with a concert at Wheeler Park from 12 to 8 p.m.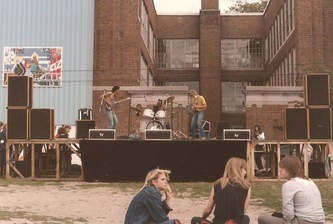 Photo courtesy of Comstock Reunion Facebook group
All bands and musicians performing will have at least one Community alumni. The event is being dubbed a
"Comstock Reunion"
, a nod to the outdoor music festival for student bands that ran from 1984-2007, and started up again this year.
"Some bands that will play actually played at the original Comstock," said Trevor Staples, a Community High alumnus who organized the reunion concert. "We welcomed anybody who went to Community if they could get together an old band or play in a band they're in currently."
Staples, a third-grade teacher at Burns Park Elementary School, will play with his old high school band, Ground Zero, a hard core punk rock band that played at the original Comstock.
Alex Johnson, a 1986 Community graduate who now runs the Ann Arbor Music Center on South Ashley Street, remembers Ground Zero from the original Comstock. Johnson said he's especially looking forward to seeing them perform along with Borax, which Johnson affectionately refers to as "one of the greatest bands in the world."
Johnson is a little biased, having played with Borax for a few years himself.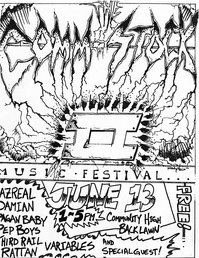 Photo courtesy of Comstock Reunion Facebook group
It was Johnson who started Comstock during his sophomore year at Community. At the time, a rock star is all he could imagine ever being.
Every gig Johnson played with his band, Third Rail, was a historic event in his head, he said. He and his band mates saw themselves at the epicenter of the music world.
He thought Third Rail would play forever and was destined for greatness.
"That's the rock 'n' roll fantasy," Johnson said. "And it's one of the most powerful things in the world."
Johnson also recalls opportunities for young musicians to play being few and far between in the Ann Arbor area at the time. It's why he proposed an end-of-the-year music festival outside of Community High, dubbed "Commstock" (there is debate among alumni about whether there was one "m" or two in the festival's original spelling) as an opportunity for musicians at the school to have that top-of-the world feeling.
The school's dean at the time was supportive, and the festival took place on the front lawn of the school. After that it was held on the back lawn every year through 2007.
"It was the biggest thing in my young life," Johnson said. "It was only 15 years after Woodstock and we really felt like we had created something great…We could at least feel like we were legends, if only on the smallest scale."
"We thought we were just the cat's meow," said Charlie Dentel, and Community alumnus and former member of Third Rail.
Dentel remembers renting sound equipment from a music store on State Street at the last minute for the original festival. "It got a little more professional over the years. In our minds we thought it would go on forever."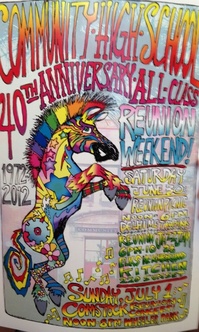 Photo courtesy of Comstock Reunion Facebook group
Third Rail didn't make it big, as Johnson and Dentel once dreamed, but four of its five members still work in some capacity in the music industry, including former keyboard player Ben Wilson, now a member of the band
Blues Traveler
.
Third Rail will play for the first time in 25 years on Sunday, sans Wilson who will be on tour.
"We'll be better musicians but worse in terms of rehearsal time," Johnson said with a laugh. "More accomplished, with a major rehearsal deficit."
After a four-year hiatus, Commstock (with two m's) was restarted this year by one of Johnson's students, Erez Levin. After hearing about the music festival for years from his teacher, Levin was disappointed to learn it hadn't been around for a while when he got to Community.
"(Johnson) told me all about it, and when I came into Community High School I was immediately disappointed," said Levin, who, as a junior, finally got around to organizing the event which took place again this year. "I just thought the festival was something that embodied the spirit of the school."
"I was elated, thrilled and proud that they brought it back," said Johnson, who helped with the technical side of things at this year's festival. "It was everything I remember it being. The names and faces changed, but there were even some of the children playing of those who attended the first one, and that was awesome.
Current student bands were invited to play in the reunion concert, but none could make it. You can see a schedule of bands playing on the reunion Facebook page.
Though staged for the reunion, Sunday's concert will be open to the public.
"Anyone from anywhere is invited to come," Staples said.
Contact Pete Cunningham at petercunningham@annarbor.com or by phone at 734-623-2561. Follow him on Twitter @petcunningham.