Man accused in fatal car dealership beating gets new trial date
Posted on Thu, Sep 20, 2012 : 8:30 a.m.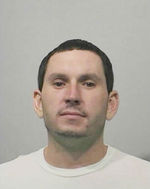 Courtesy of the Washtenaw County Sheriff's Office
A jury trial date was changed for accused killer Jonathan Aiden, 32, when he appeared at a pretrial hearing in the Washtenaw County Trial Court Wednesday, a day after a district court judge bound the case over.
Aiden was extradited from Florida, where he was serving time for burglary. When a defendant is extradited, the court has 120 days to bring him to trial.
Assistant Washtenaw County Prosecutor Dianna Collins said she was prepared to go to trial within that time.
Aiden's court-appointed attorney, Steven Tramontin, made a motion to adjourn Wednesday's pretrial hearing and move the trial date from Oct. 15 to Feb. 4.
"This is a very complex case," Tramontin said.
Judge Archie Brown granted the motion and set a pretrial hearing date for Nov. 7 and a final pretrial hearing date of Jan. 23.
In July, Aiden's uncle, Shane Roscoe was convicted of breaking into his former place of employment, Jim Bradley Pontiac GMC in Scio Township, on Aug. 18, 2006, stealing auto-related equipment and materials and beating 55-year-old William Kenney, who worked at the dealership.
Prosecutors say Aiden, who is the son of Roscoe's sister, helped Roscoe hit Kenney on the head with a hard object and running him over with a vehicle. Kenny died a month later from the injuries. The weapon was never identified.
Roscoe was sentenced to life in prison for the incident.