66 properties headed into next Washtenaw County tax foreclosure real estate auction
Posted on Mon, Jun 13, 2011 : 2:58 p.m.
Three commercial properties on a single Ypsilanti Township block of East Michigan Avenue, a home in Ann Arbor and 44 vacant lots in a Milan condominium community are among 66 listings headed for the July 19 tax foreclosure online auction by the Washtenaw County treasurer.
This year's tax foreclosures - representing a record-setting number - come after the county attempted to collect unpaid 2008 taxes through March 31.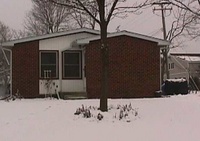 City of Ann Arbor
The properties headed to auction are posted online at Bid4Assets.com, where they're grouped into three categories: commercial, vacant land and residential.
The auctions start July 19, and they end July 25 or July 26, depending on the category.
Treasurer Catherine McClary wasn't available to comment on the properties — including why a few have been withdrawn — but told AnnArbor.com previously that starting bids reflect the amount due to the county.
That makes some of the properties look like bargains.
One is a ranch house at 3070 LaSalle in southeast Ann Arbor, which had been listed for sale within the last year. Zillow estimates its worth at $129,500 — and its assessed value of $60,800.
The starting bid for the auction: $12,600.
Other residential auctions include side-by-side properties. One example is 680 and 690 Browning in Ypsilanti Township, where the single-family homes between East Cross and East Forest are priced for opening bids of $10,400 and $15,100, respectively.
Another neighborhood that will feel the impact of the auction — and where officials may be hoping for a new buyer with a vision — is the 2400 block of East Michigan Avenue in Ypsilanti Township. where 3 commercial properties are listed among the 7 commercial listings. One is the former Velvet Touch adult store. Across the street, located near Wiard Road, are 2084 and 2094 E. Michigan Avenue.
Among the vacant parcels up for auction are 44 lots in Milan Crossing near Carpenter Road and US-23, 48 parcels in The Pointe at Island Lake condos in Ypsilanti Township and a total of 30 parcels in 3 separate auction lots in the Rivergrove condo development of Ypsilanti Township, which BRG Homes once billed as luxury condos. That property is located near Grove and Bridge roads.
While Ypsilanti Township is home to the bulk of the auction properties, most communities in the county are represented — except, McClary has said, Pittsfield Township, Chelsea and Saline.
Ypsilanti still plans a separate auction, with city officials collaborating with McClary's office to market the properties.