6-mile run through Ann Arbor offers tour of 14 examples of art in public places
Posted on Thu, Oct 25, 2012 : 11:43 a.m.
A lot of political candidates are running for public office in the Nov. 6 election, but who's running for public art? You can find out Thursday night.
Runners of all abilities are being invited to an un-timed run. The route provides a one-hour tour of 14 locations where public art can be seen in Ann Arbor — everything from the orange metal tree sculptures in West Park to The Cube on the University of Michigan campus.
The run starts at 6 p.m. outside the PR Fitness Studio, 255 E. Liberty St., and goes about six miles through U-M's Central Campus, the Old West Side and South Campus, finishing back at PR Fitness.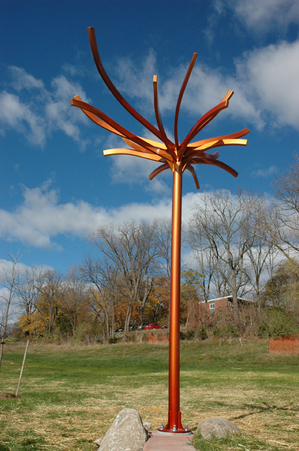 Courtesy of City of Ann Arbor
For a sneak peak, visit
www.gmap-pedometer.com/?r=5689829
.
The run is free and open to the public. It's being sponsored by the "B for Art" campaign, which is supporting the city's 0.1-mill public art tax on the Nov. 6 ballot.
"Ann Arbor is known as a cultural leader in Michigan; it is one of our most important competitive advantages," said Campaign Manager Mike Henry. "With the passage of Proposal B, residents will see an expanded breadth and diversity of Ann Arbor's art in public places."
The millage would last four years, cost the average property owner less than $1 per month, and raise about $459,273 the first year.
Critics of the proposal argue it doesn't give Ann Arbor voters a true choice on whether to fund public art. Rather, it's merely a choice between continuing to pay for public art through the current funding mechanism — using city capital project dollars that come from places like the streets millage and utility funds — or having a dedicated millage for art in public places.
City Council Member Christopher Taylor, D-3rd Ward, sponsored putting the proposed tax before voters and has been answering questions from residents about it since.
Henry said it became clear early on that most citizens outside the political and arts worlds had misconceptions about the city's public art program.
"Slowly but surely the campaign has been clearing up misconceptions and racking up endorsements everywhere," he said.
Margaret Parker, who worked on putting the city's Percent for Art ordinance and funding mechanism in place, is among those supporting its replacement with a dedicated millage.
"Much of what has been done will carry over into how the millage works," she said, adding so much time and effort went into guidelines and procedures that the Public Art Commission and the city are just getting the hang of how to work together. "Moving to a millage should be a more flexible system and funds can be put to the most direct use."