5 killed in head-on crash on US-23 in Green Oak Township
Posted on Sun, Oct 10, 2010 : 8:38 p.m.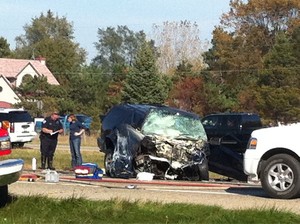 Photo by Kyle Mulka via Twitpic

Five people were killed and four others were critically injured in a head-on crash on US-23 in Green Oak Township this afternoon, township fire officials said.
Investigators are still piecing together what led to the high-speed crash when a Toyota Prius heading northbound on US-23 crossed the median into southbound traffic south of Lee Road at 3:29 p.m.
Green Oak Township Deputy Fire Chief Kevin Gentry said the Prius — which had four young adults inside — slammed into a southbound Chevy Blazer. The SUV was carrying two adults and three small children, he said.
The Prius flipped and rolled over due to the impact of the crash, Gentry said. The Blazer was smoking, and a fire extinguisher was used, he said.
When emergency personnel arrived, three people were on the ground, although it's not entirely clear whether they were pulled from the wreckage by witnesses or were ejected, Gentry said.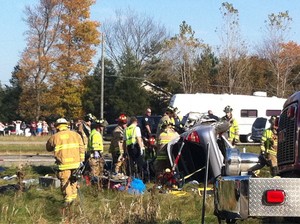 Photo by Kyle Mulka via Twitpic
The remaining occupants in the vehicles were trapped, and firefighters used Jaws of Life equipment to get them out.
Three people were pronounced dead at the scene, Gentry said. The other six were taken to the University of Michigan Medical Center, using two helicopters and ambulances.
Two others have since been pronounced dead at the hospital, Gentry said. The four survivors have "very significant" injuries, Gentry said.
The identities of those killed and their ages and hometowns have not been released. Gentry said the Blazer had an Ohio license plate and the Prius had a Michigan plate.
Police conducted a complete reconstruction of the scene, and the freeway was closed in both directions for several hours. It reopened shortly before 8 p.m.
Gentry said the median on that stretch of US-23 is about 15 yards, and the expressway doesn't have any curves there.
Green Oak Township police officials said this evening that they expect to issue a press release later, but are not currently releasing any further details.