41-page draft plan outlines new vision for Ann Arbor's South State Street corridor
Posted on Fri, Jan 4, 2013 : 5:59 a.m.
A draft copy of the Ann Arbor's new South State Street Corridor Plan was unveiled at Thursday night's meeting of the city's Planning Commission.
The 41-page document prepared by the city's staff outlines a new vision for the 2.15-mile stretch from Stimson Street to Ellsworth Road — a major corridor that connects Interstate-94 to downtown Ann Arbor and Pittsfield Township and includes a diverse mix of land uses.
"This was a resolution to recommend to council that it get distributed to neighboring jurisdictions and other public entities so they can react to it and have another voice in the process, in case they weren't involved previously," Chairman Kirk Westphal said of the commission's action on the plan.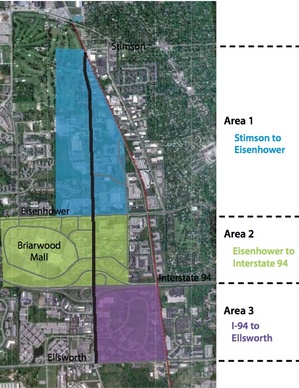 City of Ann Arbor
The approved resolution asks that the City Council authorize distribution of the plan to surrounding townships, Washtenaw County, Southeast Michigan Council of Governments, DTE Energy, Norfolk-Southern Railroad, University of Michigan, Ann Arbor Public Schools and the Ann Arbor Transportation Authority for their feedback.
Westphal said the corridor planning process — a collaborative effort by community members, businesses, the University of Michigan and the city of Ann Arbor — was one of the more thorough public stakeholder input processes he's seen during his years in Ann Arbor.
"The city does well in general, and this was an exceptional collaboration between lots of private interests, as well as amongst city staff and residents in this area," he said.
The plan envisions a vibrant and diverse corridor with a mix of land uses that are interconnected so that users can move safely and seamlessly by foot, bicycle, transit and automobile.
"It's a corridor with a fragmented history development-wise, ranging from outmoded research parks on the south end all the way to more retail-oriented uses on the north end," Westphal said. "So I think it has lacked identity to some point, and perhaps commerce has suffered as a result of that. So I think what this does is just clarify our vision for what we might like to see there in the future."
Among the plan's many recommendations:
Evaluate the feasibility of utilizing vacant parcels for alternative energy generation
Evaluate the feasibility of integrating public art along the corridor
Develop incentives for more stringent energy efficiency standards that encourage all new buildings to have solar-ready rooftops
Develop conceptual images for public space improvements, streetscape changes, signage and lighting
Identify characteristics that distinguish the corridor and highlight destinations and themes that connect to the city at large
Develop a South State Street logo and color template
Evaluate utilizing open land for community gardens
Assess and improve high-crash areas along the corridor
As housing is integrated into mixed-use areas, encourage the expansion of affordable housing options
Develop safe non-motorized systems, including continuous, connected and maintained bikeways, and redevelop and maintain sidewalks throughout the corridor
Utilize lighting and signage improvements to help define the character of the corridor
Establish high-visibility pedestrian crossings throughout the corridor
Turn State Street into a boulevard between Eisenhower and I-94 to enable safer automobile, bicycle and pedestrian movement
Consider utilizing vacant parcels for athletic fields and recreation facilities
Preserve appropriate parcels of land for public open space, parks and walking paths
Assess traffic circle options (roundabouts) for high-crash areas along the corridor
Develop a pedestrian and bicycle path along the Ann Arbor railroad that will connect the planned Allen Creek bikeway to Pittsfield Township through the corridor
Identify and apply for grants that will bring financial support to projects that improve the streetscape, including street lights and signage
Replace DTE street lights with high-efficiency LEDs
Partner with SPARK to help facilitate development and redevelopment along the corridor
Explore the development of a Business Improvement District that allows businesses along the corridor to pay additional fees to fund improvements along South State
Anticipate and plan for future light rail transit or bus rapid transit along the corridor
Increase sanitary sewer capacity throughout the corridor as necessary
Improve stormwater management and drainage along the corridor
Evaluate innovative parking solutions to decrease congestion and utilize land more efficiently
Resurface roads in the corridor
Conduct a detailed traffic analysis of the corridor and identify high-priority intersection improvements
Annex remaining township parcels along the corridor
Encourage the incubation of small businesses
Promote mixed land uses (residential and office or residential and ancillary retail) along the corridor
Promote commercial development in specific areas along State Street
Enhance street systems operations including light timing, turn lanes, and signage