2 transported to hospital with minor injuries after rollover crash in Ann Arbor
Posted on Fri, Jun 22, 2012 : 5:10 p.m.
Two female patients were transported to the hospital with minor injuries following a rollover crash Friday afternoon at the intersection of Miller Avenue and North Maple Road in Ann Arbor.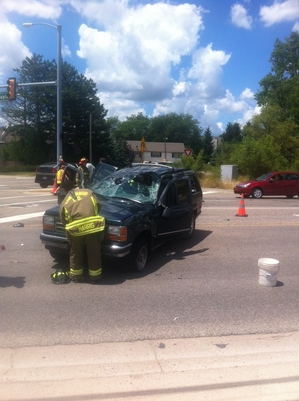 Courtesy of Ann Arbor Fire Department
Ann Arbor fire Battalion Chief
Robert Vogel
said the department was dispatched around 1 p.m. to a rollover crash involving a green Ford Explorer. When units arrived, they found several crashes involving five vehicles.
Vogel said it appeared that the Ford Explorer ran a red light. At least one vehicle hit the Explorer, and the subsequent crashes occurred when vehicles were attempting to stop or avoid the crash.
The Explorer had two occupants, one male and one female. The female occupant was transported to the hospital with minor injuries.
A second woman was transported to the hospital with minor injuries she received while trying to avoid the rolling over Explorer. All other occupants were checked on scene and not transported, according to a news release.
The intersection has since re-opened, Vogel said.
More details about the crash were not immediately available.

View 2012 Washtenaw County Traffic Reports in a larger map