2 finalists for Ann Arbor public services administrator job have experience with flooding issues
Posted on Mon, Sep 24, 2012 : 6:04 p.m.
Editor's note: This story has been corrected to reflect the fact that while Hupy attended the University of Michigan in the 1970s, he did not graduate.
City Administrator Steve Powers plans to make a recommendation to the Ann Arbor City Council by next week on hiring a new public services administrator for the city.
It's one of the highest-ranking positions in the city's administration, and Powers acknowledges it's one of the most important decisions he'll make this year.
So far he's narrowed it down to two finalists: Craig Hupy, who has been serving in the position on an interim basis for several months, and Mary Anderson, an outside candidate from Illinois.
The city is looking to fill the shoes of Sue McCormick, who left Ann Arbor last December to become director of the Detroit Water and Sewerage Department.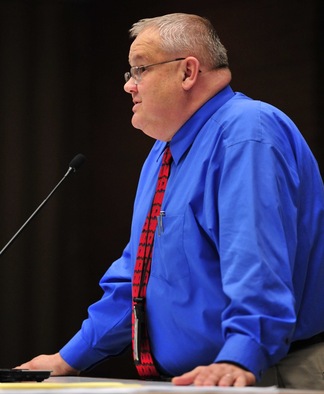 Ryan J. Stanton | AnnArbor.com
City Clerk
Jacqueline Beaudry
said the city received 66 total applications, and of those 12 were incomplete.
City ordinance requires City Council consent for appointment of service area administrators and Powers is planning to ask for that at Monday night's meeting.
AnnArbor.com filed a Freedom of Information Act request with the city to obtain the resumes submitted by the two finalists.
They show both Hupy and Anderson have extensive experience in municipal government, including dealing with flooding issues, which is something the city is grappling with right now.
Mary Anderson
Anderson was director of public works from 2002 through April of this year in Highland Park, Ill., an affluent suburb 30 miles north of Chicago with about 30,000 residents.
She oversaw a department with 64 full-time and 50 part-time/temporary employees, as well as an operating budget of $16.5 million and capital expenditures exceeding $7 million annually.
She was responsible for sanitary and storm sewers, water production and distribution, engineering, capital projects, facilities and grounds, fleet maintenance, transit operations, parking operations and maintenance, forestry and other departments.
Among her accomplishments she notes she completed an inflow/infiltration analysis for seven target neighborhoods impacted by significant storms, and developed an action plan for mitigating flooding impact. She also implemented Highland Park's stormwater utility fee.
She coordinated a water treatment plant improvement project and negotiated contracts for the city's first design/build project: downtown parking decks.
She notes she managed a departmental reorganization and "service adjustments with contracting of services," resulting in a 25 percent staff reduction through attrition.
She still was able to implement various sustainability measures, including a hybrid vehicle fleet, alternative fuels, an electronics recycling drop-off site, a vehicle idling policy and permeable concrete alley and asphalt recycling. She also initiated a city facility energy efficiency analysis.
Before that, she served as director of public works in Champaign, Ill., from 1997 to 2002. She was deputy director of transportation and environmental services in Alexandria, Va., from 1991 to 1997.
She worked in the transportation department in Prince George's County, Md., from 1986 to 1991, and was a budget and service analyst for the New Jersey Transit Corp. from 1983 to 1986.
She holds a bachelor's degree in international affairs from Florida State University and a master's degree in political science from the University of Florida.
Craig Hupy
Hupy has been Ann Arbor's interim public services administrator since December 2011, overseeing a service area with 272 full-time employees. He highlights his experience going through the city's last budget process and participating in a review of the public services area.
In recent months, he's been working closely on flooding issues plaguing neighborhoods on the city's southwest side and has attended a number of meetings with residents.
Hupy started his career in Ann Arbor more than 26 years ago as a civil engineer and rose through the ranks, serving as a manager in various city departments.
He was the manager of the city's field operations unit from May 2009 to December 2011, where he was involved in street maintenance, sanitary sewer and stormwater collection, water distribution, solid waste and compost collection, cemetery operations, urban forestry and park operations.
He was responsible for completing a reorganization of the unit. He notes he also moved forward on adoption of digital work orders and supported growing use of geographic information systems.
From 2003 to 2009, Hupy was manager of the city's systems planning unit, where he was responsible for coordination of the consolidation of water and wastewater treatment plant laboratories. He also moved sanitary and storm sewer systems to GIS-based mapping and inventory.
As field superintendent in the city's utilities department from 1990 to 2003, he was responsible for the maintenance of the drinking water, wastewater and stormwater systems.
He notes he oversaw creation of one of the first full-pipe water system models in the state and moved water system mapping and inventory to a GIS base. He also participated in the Sanitary Sewer Overflow Task Force, which established the city's footing drain disconnection program.
He served as a civil engineer for the city from 1986 to 1990, reviewing subdivisions and other private developments during the planning process. He also reviewed and approved construction drawings, supervised construction inspectors, and managed water, sewer and road projects.
Before coming to Ann Arbor, Hupy worked as an engineer for Sprint Communications Corp. in Irving, Texas, and as an engineer for Broad Corp. in River Rouge, Mich.
He attend the University of Michigan in the 1970s where he pursued general studies in science and mathematics but did not graduate. He later earned a bachelor's degree in civil engineering from Michigan Technological University in 1983.
Hupy is a member of several professional associations and is past vice-chairman and current treasurer of the Huron River Watershed Council. The Michigan Water Environment Association named him the "Collection System Professional of the Year" in 2003.
Hupy's base salary as field operations manager is $110,000.
McCormick's base salary as public services administrator was $135,600, though she made $176,774 in her last year, including severance pay and other cash perks. She now has a pension from Ann Arbor worth $33,741 a year after a little more than a decade on the job.