1st Ward candidate for Ann Arbor City Council: 'I have been attacked throughout this campaign'
Posted on Wed, Jul 11, 2012 : 5:58 a.m.
The 1st Ward race for the Ann Arbor City Council is one of the most hotly contested local election battles this year, and it's perhaps the ugliest.
With incumbent Sandi Smith stepping down, Democrats Eric Sturgis and Sumi Kailasapathy are competing in the Aug. 7 primary for an open seat.
Sturgis' frustrations with personal attacks on his character bubbled to the surface Tuesday night at a debate hosted by the League of Women Voters in Ann Arbor.
Referencing blog posts and other statements made by supporters of Kailasapathy, Sturgis said he's been slandered and libeled in recent weeks.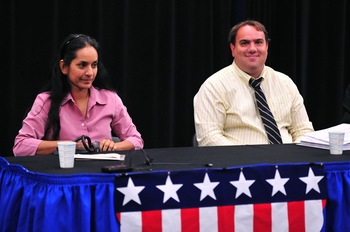 Ryan J. Stanton | AnnArbor.com
"What's sad to me is I have been attacked throughout this campaign, just like in 2010 when my opponent
ran on a slate with Pat Lesko
, and these attacks have been baseless," he said. "It's something I would expect from the Ann Arbor Tea Party, but not from another Democrat."
Lesko, a former mayoral candidate who ran alongside Kailasapathy as part of an unsuccessful City Council slate in 2010, has been claiming he committed election fraud in 2010 by appearing on ballots in two different counties at the same time. Sturgis maintains he did nothing illegal.
Lesko also called out Sturgis for saying he has an associate's degree from Oakland Community College and that he's finishing a bachelor's degree at Eastern Michigan University. In a June 25 blog post, Lesko said she checked with EMU and there's no record of Sturgis being enrolled, and she speculated he might also be misleading voters about his associate's degree.
Sturgis provided AnnArbor.com a copy of his transcript from OCC on July 6, showing he was awarded an associate's degree in liberal arts in May 2011.
As for continuing his education at EMU, Sturgis told AnnArbor.com in June he was awaiting a final transcript from Marietta College in Ohio, where he went for one semester this past spring, and that he still planned to enroll for the fall semester at EMU.
Sturgis showed up to Tuesday's debate with his OCC transcript in hand and a letter of acceptance from EMU, showing he's now admitted. He gave copies of the letter to Kailasapathy and Lesko, who was at the debate, and asked for a retraction of her blog posts.
"I've done nothing illegal and that's been confirmed," Sturgis said. "I said I planned on attending Eastern and my plan has come true. I wish the attacks were more about the issues."
Kailasapathy denied having any involvement with Lesko or the attacks on Sturgis. She said she thought it was unfair for Sturgis to accuse her of attacking him.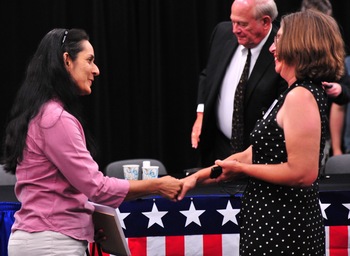 Ryan J. Stanton | AnnArbor.com
"I have not attacked him a single time, whereas he did attack me in the last debate about Jane Lumm and all the issues about whether I was a Democrat or not," Kailasapathy said.
Asked to comment on the blog posts accusing Sturgis of fraud and lying about his academic credentials, Kailasapathy defended Lesko's right to free speech.
"I believe in the First Amendment. People have a right to write what they want," she said. "And I think Ann Arbor people are intelligent, smart people. They know what to believe."
Kailasapathy said she found it curious that Sturgis appeared on ballots in two different counties, but she said she never personally looked into it.
Sturgis explained he was registered to vote at his mother's home in Scio Township and filed to run as a precinct delegate there in January 2010.
Later that year while attending OCC, Sturgis said, he began living in an apartment in Oakland County. He said he became active in the local Democratic club and was encouraged to run for precinct delegate, so in May 2010 he changed his voter registration to his Auburn Hills address and filed to run as a precinct delegate there.
But in July 2010, shortly after his appendix burst, Sturgis said, he decided to return home and then changed his voter registration to the city of Ann Arbor.
He maintains his actions were entirely legal and that the two affidavits of identity he filed were in good faith and accurate at the time each was filed.
Washtenaw County Clerk Larry Kestenbaum said if it had been a public office Sturgis was seeking, he would have been removed from the ballots in both jurisdictions at the points when he changed his voter registration, but Sturgis wasn't obligated to withdraw his name.
"Since it's a political party office, and because there are just so many of them, I don't think there is even an option to remove candidates from the ballot," Kestenbaum said, adding that any questions of eligibility for precinct delegate positions are under the party's authority.
"Because it is a party office, the party has total authority over who is elected or not," Kestenbaum said. "As election officials, we can only follow the rules set up in state statute, but the party is not bound by those rules or by any decision we make."
Sturgis, who is backed by political allies of Mayor John Hieftje and the council majority, characterized his opponent as a naysayer and an obstructionist at Tuesday's debate.
"I'm running a positive campaign on the issues and trying to talk about the issues that are important to 1st Ward residents," he said. "I feel my experience working with kids and being a tennis coach, basketball coach, sports official and volunteer tutor at Clague Middle School, and my interactions throughout the community, make me the better candidate because I can work with anybody on any side of the aisle on the issues that are important."
Kailasapathy, a local certified public accountant, said she's running so she can bring financial expertise to the City Council and help set new budget priorities.
"Let us make sure that the uniqueness and the beauty of our neighborhoods and parks are protected and we do not exchange that for a promise of progress in the form of a mini-Southfield," she said. "Progress is not measured in terms of how high we can build."
Kailasapathy called it ironic that the city built a $50 million police-courts complex, but doesn't have enough money to hire more police officers.
"We have plans to build tall buildings but don't have a functioning tower truck for the fire department," she added, calling for more sensible priorities. "We need to make sure we do what a municipal government is supposed to do: Take care of core services."
Sturgis said he believe this election is about whether 1st Ward residents want to see progress and have somebody who's positive and focused on important issues or someone who's "anti-this" and "anti-that" and offers very few solutions.
"I think it's disingenuous to talk about personal issues, about stuff that really doesn't matter to the residents," he said. "The residents want to hear about how we're going to better maintain our city parks, how we're going to support our police and fire, how we're going to work to continue to push transit. That's why I'm running and why I feel I'm the better candidate."
Kailasapathy expressed concerns about the path the city is headed down and suggested city officials shouldn't be so focused on development.
"Quality of life is not always measured by how many new buildings we build," she said, "but also by how we preserve our historical and environmental resources."
Kailasapathy said the city also must make affordable housing and human services funding a priority instead of an afterthought.