Controlled burn set to happen today at Gallup Park and Leslie Golf Course
Posted on Tue, Mar 16, 2010 : 10:37 a.m.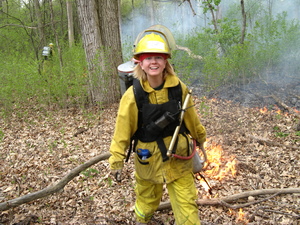 Photo by NAP Staff

The Natural Area Preservation unit of the City of Ann Arbor will conduct a controlled burn today in Gallup Park and Leslie Golf Course.



Controlled burns are used to enhance the ecology of a site by controlling invasive plants. The fire is conducted by trained personnel and will be under control at all times. The burn will take place between approximately noon and 5 p.m.

The weather forecast for this afternoon calls for a temperature of 54 degrees and light winds of 4-5 mph from the north.

NAP conducted its annual Controlled Burn Volunteer Crew Training in March. This year's planned burn areas include Argo Nature Area, Berkshire Creek Nature Area, Bird Hills Nature Area, Bluffs Nature Area, Buhr (Children's Wet Meadow), Cedar Bend Nature Area, Evergreen, Furstenberg Nature Area, Gallup, Huron Hills Golf Course, Lakewood Nature Area, Leslie Park Golf Course, Leslie Science and Nature Center, Leslie Woods Nature Area, Marshall Nature Area, Mary Beth Doyle, Olson, Redbud Nature Area, Ruthven Nature Area, South Pond Nature Area, Stapp Nature Area, Sunset Brooks Nature Area, West Northwood St traffic median, Wheeler Service Center and Winewood Thaler.

Questions? Contact the NAP office, at 734-794-6627. The program's twitter feed, @a2nap also publishes same-day information about burn times and locations.