neighborhood news brief
Controlled burn planned today at Black Pond Woods nature area
Posted on Fri, Oct 22, 2010 : 10:37 a.m.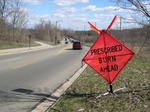 The Natural Area Preservation unit of the City of Ann Arbor will conduct a controlled burn today in Black Pond Woods nature area. Controlled burns are used to enhance the ecology of a site by controlling invasive plants.

The fire is conducted by trained personnel and will be under control at all times. The burn will take place between approximately 1 p.m. and 6 p.m. Questions? Contact the NAP office at 734-794-6627.