Quick tips to keep you safe online with Kristin Judge, Center for Internet Security
Column:

Where do old computers go? Best practices for disposing of old electronics

Posted on Thu, May 10, 2012 : 9 a.m.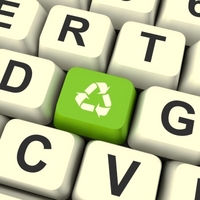 Image by Stuart Miles freedigitalphotos.net

New tablets, phones and laptops seem to be released practically every six months; the volume of devices we have is increasing significantly. But what should be done with the old devices we no longer want? The issue of disposal of these devices, in a secure way, is critically important. Just throwing a computer or other device in the garbage is not an option, since the information contained on these systems can still be accessed.

About one month ago, I did some spring cleaning and found five phones and three mp3 players, along with cords for each. in random drawers throughout the house. I simply put them all in a bag together and stored them in a kitchen cupboard.

Just like many of us, I have heard about the wonderful donation programs for phones and computers to help military personnel, domestic abuse victims, and low-income students. My goal is to get those devices to programs like those, but the task of wiping the stored personal information first is daunting.

The Multi-State Information Sharing and Analysis Center provides guidance in its "Erasing Information and Disposal of Electronic Media, A Non-Technical Guide."
OnGuardOnline.gov is also a good resource that explains how to wipe information and then how to recycle the computer.

Just think about the documents stored on a typical home computer for a minute. Passwords, account numbers and tax returns are a few items that could end up in the wrong hands if not properly removed before disposing of a computer. Before getting rid of a computer, personal data should be transferred to other devices like USB drives, CDRoms, external hard drives or a new device. Once the sensitive data is transferred, the next step is to completely erase the memory on the device.

Before disposing of a computer or phone, it is important to make sure personal information is completely wiped from the system. Just reformatting the hard drive or deleting files is not enough. In the skilled hands, files can still be discovered. Software needs to be run on a computer to actually wipe clean the hard drive.

For some people, their smart phone or tablet has taken the place of a computer altogether, so care to clean a phone is just as important as cleaning a computer before disposing of it. Information can be manually deleted from the SIM card on a phone, and service providers and phone manufacturers can provide instructions for that process. Data erasing tools are also available online.

After transferring data and wiping a device clean one decision still remains. How should devices be disposed? Recycling a clean device is the always better than just putting it in the trash.

In this instance, recycling could be better explained as repurposing. There are many organizations that can reuse electronic devices. The U.S Environmental Agency has information on how to "eCycle Cell Phones" and "eCycle Computers" at www.epa.gov/waste.

The MS-ISAC "Erasing Information and Disposal of Electronic Media, A Non-Technical Guide" can also be found on the Michigan Cybersecurity Initiative site at www.michigan.gov/cybersecurity. Just click on "Michigan Cyber Initiative Toolkit" for more information.

Today's Quick Tip (QT):

When disposing of an electronic device, transfer sensitive data, wipe the device clean and recycle.

To get more great information about staying safe online, including access to free monthly newsletters, webcasts and more, visit the Center for Internet Security at www.cisecurity.org. Stay tuned for our next chat!