OUR VALUES
COLUMN:

U.S. & the world: Are we still Number One?

Posted on Mon, Sep 17, 2012 : 10:54 a.m.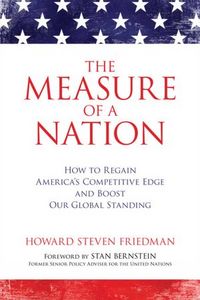 Editor's note: This post is part of a series by Dr. Baker on Our Values about core American values. This week Dr. Baker is discussing America's ranking in the world.
Is America Number 1 in the world?
Most Americans — including me — like to think of our country as the best in the world.
But are we still on top?
What are the facts?
In a brave new book, The Measure of a Nation, Howard Steven Friedman answers this question. Friedman is a leading statistician and health economist for the United Nations. He compares the U.S. with other wealthy, large nations in five areas: health, equality, safety, education and democracy. Each day this week, we'll discuss his key findings in each area, starting with health today.
And now the reader's warning: We don't fare very well in this comparison. And it's hard to argue with Friedman's facts. He uses highly reputable and transparent data to compare the U.S. with Australia, Belgium, Canada, France, Germany, Greece, Italy, Japan, Portugal, Netherlands, South Korea, Spain and the United Kingdom. The results of this comparison are grim.
OUR HEALTH RANKINGS:
Americans have the lowest life expectancy overall.
American women have the lowest life expectancy.
American men have the lowest life expectancy.
America has the highest rate of infant mortality.
America has the highest rate of maternal mortality (mother's death in childbirth or soon after).
America has the lowest rate of return on health expenditures, meaning that we spend more than other nations and have the lowest life expectancy.
What do you make of these health statistics?
Are you surprised to read this report on health?
Do you think the healthcare reforms will improve our ranking?
Dr. Wayne E. Baker is a sociologist on the faculty of the University of Michigan Ross School of Business. Baker blogs daily at Our Values and can be reached at ourvaluesproject@gmail.com or on Facebook.