OUR VALUES
COLUMN:

Social safety net: Who needs it?

Posted on Mon, Sep 3, 2012 : 11:06 a.m.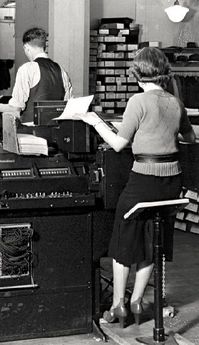 In 1936, employees at the U.S. Social Security Administration used punch cards and other "new" record keeping techniques to keep track of Americans' earnings and Social Security numbers. When this phase of America's social safety spread out in the 1930s, it represented the largest bookkeeping operation in the history of the world. Photo now in public domain.
Editor's note: This post is part of a series by Dr. Baker on Our Values about core American values. This week Dr. Baker is discussing the social safety net.
The choice of Paul Ryan as Mitt Romney's running mate put the social safety net front and center in the November election. Ryan's 2012 budget plan included deep cuts and changes to Medicare and Medicaid. These issues deeply divide Americans, as we've discussed before. With Ryan on the ticket, we'll see renewed attention to his Ayn Rand-inspired philosophy of limited government. Where do you stand today on his ideas?
If you missed it, check out OurValues.org guest author Terry Gallagher's series on Rand and Ryan last month.
I learned something about the social safety net during my travels in northern Michigan this summer. Our trip brought my family by boat to the harbor town of Gore Bay. It's an idyllic spot on Ontario's Manitoulin Island, the largest freshwater island in the world. It's one of the principal ports on Lake Huron's North Channel.
Over a century ago, Gore Bay became the judicial center of the Island. The original jailhouse complex, now a museum, had separate floors for men and women. It included the jailor's residence (the family cooked for the prisoners), courthouse, and judge's residence.
As a sociologist, I was curious about the nature of the incarcerations. What offenses were common? Small stuff, the docent said; mostly public drunkenness or disorderly conduct. But then she added the surprise.
In the wintertime, local farmers would send their daughters to live in the jail for the duration of the season. There wasn't enough food on the farm to feed them. Because the jailor was obliged to house and feed them, the young women would be warm, fed, and protected. "There wasn't a social safety net back then," the docent said, "like we have now."
Now, I know that comparisons between the U.S. and our northern neighbor are apples and oranges. We have different histories, cultures and views of the role of government in our lives. But the Gore Bay example got me thinking: To what extent should the government provide a social safety net to those who need it? In the upcoming presidential and vice-presidential debates, we will see very different answers to this question.
Should the federal government provide the social safety net?
Is social safety a matter for families, churches, and local communities?
Or, is each person on his or her own?
My deep gratitude to OurValues.org guest authors this summer: Gayle Campbell, Rodney Curtis, Terry Gallagher, Kathy Macdonald, Benjamin Pratt and Jane Wells all made excellent contributions this summer! (If you missed their series, I commend them to you — just search for their names in the Google search box in the upper right of this web page.)
Wayne Baker is a sociologist on the faculty of the University of Michigan Ross School of Business. Baker blogs daily at Our Values and can be reached at ourvaluesproject@gmail.com or on Facebook.