Quick tips to keep you safe online with Kristin Judge, Center for Internet Security
Column:

Is your physical location being shared online?

Posted on Thu, Aug 30, 2012 : 10:48 a.m.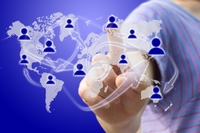 Free image courtesy of FreeDigitalPhotos.net
According to a June, 2012 CNN Tech article, "Facebook pulls location-tracking feature," the company had been testing a feature that would allow you to find out if your Facebook friends and other Facebook users were nearby in real time. A person would need to login to the Find Friends Nearby site in order to have their information shared, and the goal of the app was to allow you to quickly link with a person you just met in person.
One of the developers related the application to exchanging business cards. Remember that practice back in the olden days?
I remember using the "check-in" feature on Facebook for the first time, when I was in an airport and looking forward to getting home. Since social media is a preferred method of communication for my teenagers, I knew they would see where I was and feel some relief that I was on my way.
As soon as I posted, a message came up showing me other people who had also checked in at the airport. The only problem for me was that these were complete strangers. I had no interest in knowing they were in the airport, and I certainly did not want them to be notified that I was there. It was just plain creepy to me!
Sometimes one person can reveal another person's location without getting consent. Facebook allows friends to "tag" them at a location in real time. If this is a concern, the ability to be "tagged" can be restricted by requiring a person to give permission using "Profile (Timeline) Review." Facebook privacy policies and tips can be found here: http://www.facebook.com/help/location/privacy.
Smartphones have the wonderful ability to help us find directions using mapping applications. The application can find your exact location and get you to where you want to go with clear maps and instructions. In order for this to work, the user must enable the Global Positioning System-locator feature. Personally, I turn off the location setting on my phone unless I am using the map feature.
Work phones may need to be treated differently for safety reasons. Companies or individuals may want the ability to locate a phone if stolen, so check company policies.
This is not a one-size-fits-all issue. It is important to understand the options available and make a conscious choice about personal information posted on the Internet. Just search "location services android" or "location services iOS" to get more details about your smartphone.
Be aware that GPS might be automatically turned on when you get a new phone or sign up for a social media site. It is not always an opt-in situation but rather one you need to consciously opt out of. When location services are enabled, your location can be revealed online when you post pictures, updates or status changes unless you have taken the effort to turn off that feature. Email can also have a signature feature that shows the physical location of the person when an email is sent.
Shortly after my airport experience, I made a call to my service provider to better understand my GPS features and checked my settings on my social media and email accounts to make sure my location was not revealed when I used the sites. Social media is a part of our lives to stay, and I will continue to use it in my personal and professional life. One thing that has changed is the way I use GPS locator applications.
Today's Quick Tip:
Educate yourself about location services options on smartphones, social media and email.
Check settings on smartphones, social media sites and email and disable GPS-location services if you do not want to reveal that information online.
Check the settings on family members' accounts and disable GPS-location services if desired.
To get more great information about staying safe online, including access to free monthly newsletters, webcasts and more, visit the Center for Internet Security at www.cisecurity.org. Stay tuned for our next chat!